Find below the iron ore price charts for January 27, 2014: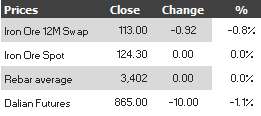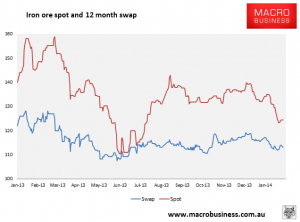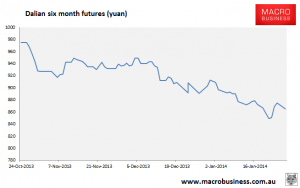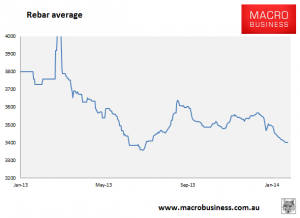 Rebar futures are bouncing along the bottom. Paper markets and spot have stabilised going into Chinese New Year as credit concerns ease as well. There is nothing terribly convincing about a rebound but markets are about to fall silent for the NY break.
Port stocks piled on another one million tonnes last week: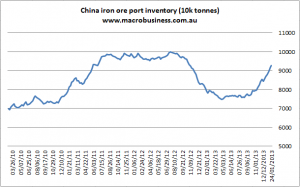 Remember that these figures tend to lag more dynamic markets so I'd not be looking here for any guidance to short term Chinese steel mill activity.
In news, Rio offered another hint yesterday about the surplus in the market:
Australian mining giant Rio Tinto has made a rare spot offer of Robe River iron ore fines via tender — its first since September 2013 — sources invited to bid for the cargo said Monday.

In a tender issued late Friday, the company is offering a 170,000 mt cargo of 57%-Fe Robe River iron ore fines for loading over February 10-19 from Cape Lambert in the Pilbara region, the iron ore production hub located in Western Australia. The tender closes at at 1.30 pm Beijing time (0530 GMT) Monday.

Robe River fines have not been commonly seen in the spot market as the majority of such material is reserved for Rio Tinto's term customers.

But the miner's customers said Monday there are expecting to see more of the product being offered on the spot market this year due to the company's planned production ramp-up.
Yes, more to come.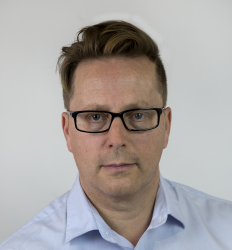 Latest posts by David Llewellyn-Smith
(see all)