Find below the iron ore prices and charts for January 23, 2014: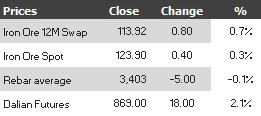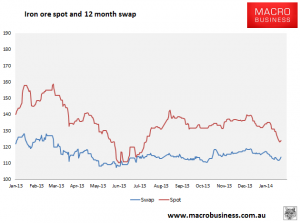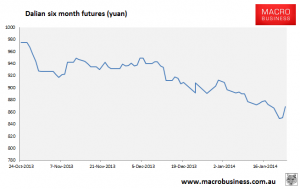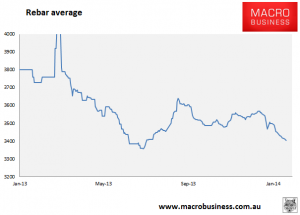 I'll admit I was a little surprised to see spot up this morning after yesterday's Flash PMI but as I've said we're in a period of large cross-currents at the moment with seasonal restocking vying with weak fundamentals so perhaps not that unexpected. The big rise in paper markets (which was also apparent in rebar futures) also rather hints at a bit of short covering so we'll see if this move lasts. Any rally should be used as a chance get more short.
In news, China's import data for December is out and shows:
Chinese imports of Australian iron ore fell 2.3 million mt or 6% from November to 37.34 million mt in December due to loading delays caused by Tropical Cyclone Christine, according to data released Wednesday by the General Administration of Customs.

The storm swept through the Pilbara region in Western Australia, a key iron ore production and export hub, halting operations and exports for three days in late December.

"With loadings affected in Australia due to the cyclone, around 20 Capesize vessels' worth of iron ore were put off, so naturally December imports volumes were lower," a steelmaker in central China said.

However, Australia saw an 11% year-on-year increase in its iron ore shipments to China in December. Australia remained China's top iron ore supplier, accounting for 51% of its imports.

From its second-largest supplier, China imported 16.27 million mt of iron ore from Brazil in December, up 6% from November but down 19% year on year.

India's iron ore shipments to China more than quadrupled year on year to 1.27 million mt in December, compared with 285,000 mt in December 2012. The imports rose 23% from November.

Chinese ore buyers were looking forward to a possible increase in Indian iron ore exports following a ruling in mid-November allowing the auction of ore mined from Goa. The western Indian state of Goa has been under a complete mining ban since September 2011, and the southern state of Karnataka has seen its mining ban lifted but is currently not allowed to export any iron ore.

In total, China imported 73.38 million mt of iron ore in December, down 6% from the record 77.84 million mt imported in November. December imports were up 3% year on year.
And from World Steel via the AFR:
Steelmakers have been battling low steel prices and weaker demand in the past three years, but confidence in the sector, a major industrial indicator, has recently improved slightly, even while large overcapacity persists.

Global output of crude steel rose by 3.5 per cent to more than 1.6 billion tonnes in 2013, data from the World Steel Association showed on Thursday. In 2012 by comparison, output grew 1.2 per cent.

Most of the boost came from top producer China and other Asian steelmakers, while the West cut production, especially in the first part of the year, in response to low prices.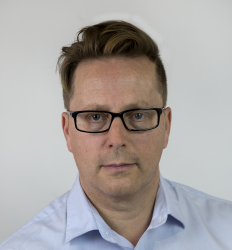 Latest posts by David Llewellyn-Smith
(see all)