The iron ore price table for December 19,2013: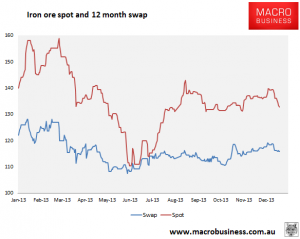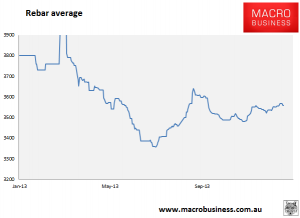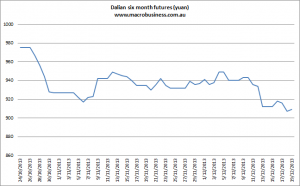 And in news, we have GS versus Rio:
Rio Tinto Group (RIO) expects a decline next year in the price of iron ore, the source of most of its earnings, saying global supplies will increase.

"There will be capacity coming on next year," including at Rio, the London-based company's 63-year-old Chief Executive Officer Sam Walsh said in an interview in the city. "I expect that iron-ore prices will soften a bit next year but it will still be a good business to be in."

…About 400 million tons of new supply will be delivered by 2015, pushing prices down by about 43 percent to an average of $80 a ton that year, Goldman analysts said last week.

"I'd be comfortable with it but it would surprise me," Walsh said of the price forecast. "It would surprise me purely and simply because that would grind iron-ore expansions to a halt."

Smaller producers would probably be unprofitable if the price dropped to that level, he said.
I remain with Goldman. In other news, Gina got her money from Uncle Sam:
Gina Rinehart's Roy Hill joint venture is a step closer to reality this morning after a US government agency agreed to lend $US694.4 million ($784 million) to the giant iron ore mine, port and rail project in Western Australia.

In its final decision on the matter, the Export Import Bank of the United States found the loan could support up to 3400 US jobs by stoking demand for US products, such as Caterpillar trucks or trains built by GE.

…The Japanese Bank for International Cooperation is also understood to have loaned just over $US1 billion to Roy Hill in March on the grounds that Japanese company Marubeni is one of the joint venture partners.
I can understand why the Japanese and Americans are keen to fund it. I'm sure the Koreans will too. Cheaper iron ore benefits all three.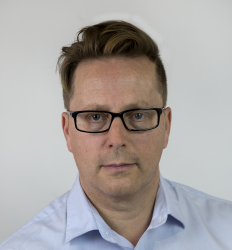 Latest posts by David Llewellyn-Smith
(see all)