Cross-posted from Martin North's Digital Finance Analytics Blog.
Within APRA's voluminous quarterly ADI data is information of the flow of new loans written by value, separated into LVR bands. With the caveat of course that this does not include non-bank lending, which is rising; it paints an interesting picture of the state of play. As I have said previously, higher LVR loans may not always be a problem, but we also know of a wider range of higher LVR deals, 120% of LVR is still the record. So its interesting to dig into the data. The trends are clear.
The first chart shows the value of new loans written above 80% and 90% LVR, by lender type. As you would expect, the major banks, other banks and overseas subsidiaries have the largest footprint, with a small amount coming from credit unions and building societies. Overall, higher LVR lending is growing.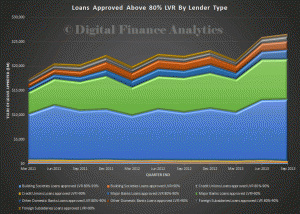 But if you look at the trend in terms of the proportion of over 90% LVR loans approved as a share of all loans approved, you can see clearly that the majors have increased their share of high LVR loans, in substitution for the smaller banks and the overseas subsidies recently.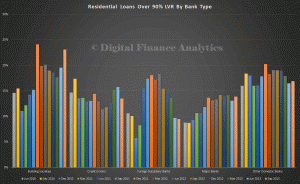 Another way to look at this picture is variation from the average. Here I look at the trend proportion, against the average for all banks. Major banks were below trend, but that is changing now.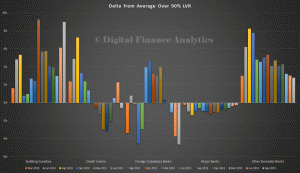 Finally, here is a view of just the majors (important because they have such a large market share). It shows a significant rise in higher LVR lending in the past few months.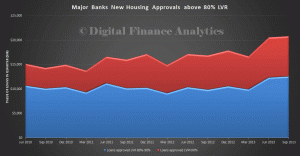 So, what to make of all this. Well, for me it illustrates the momentum in the market thanks to demand for higher LVR deals, being translated into the majors willing to lend at higher LVR in the right circumstances. Its also suggests that regional banks and overseas subsidiaries may have had a slight advantage for a period, but this is now being wiped away, thanks to recent changes by the majors. What we cannot tell is whether this reflects just a change in mix from the market, or a change in underwriting standards, or both. Which ever, we will watch the LVR mix closely, as higher LVR loans ultimately may be equated with higher portfolio risk if house prices were to experience a correction. Whilst that in the short term is unlikely, there could be escalated risks later.
My read on this is that the majors have relaxed their criteria in response to competitive pressure.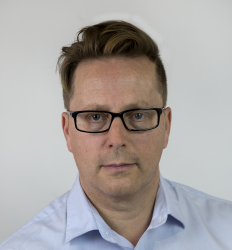 Latest posts by David Llewellyn-Smith
(see all)