Capital Economics puts the boot into the Aussie today:
The Aussie faces three main headwinds. First, the prospects for monetary policy remain unfavourable. Although the RBA did not lower its cash rate today, we would be surprised if it did not cut it by a further 25bp in the spring of 2014 to help the economy cope with a cooling mining boom. (See our Emerging Asia Economics Update, "Australia's central bank still likely to provide more support".) This would bring the cumulative reduction in the cash rate to 2.5% since late 2011.

What's more, we don't foresee the RBA raising the cash rate thereafter until late 2015, sometime after the US Fed has begun to hike its own target for the federal funds rate. Accordingly, we think – unlike the market – that the gap between official interest rates in Australia and the US is more likely to shrink further than to grow again.

Second, we think commodity prices are likely to fall by a further 15% or so on average during our forecast window. Granted, the previously-strong relationship between commodity prices and the exchange rate has also broken down somewhat since the spring. This may reflect the fact that the prices of commodities have not been moving as closely in line with those of other "risky" assets, as well as the influence of the third headwind discussed below. Nonetheless, lower commodity prices would worsen Australia's terms of trade, which have already come under significant pressure.

• Third, countries with large current account deficits may be especially vulnerable to a reversal of capital flows when the Fed eventually decides to taper its asset purchases. Australia fits this description. Although the current account balance has shrunk in recent years, it remains around 3-4% of GDP.
Interestingly, CE only see the downside at 85 cents in part because they don;t see the currency very overvalued using a deviation from the ten year average of the real effective exchange rate: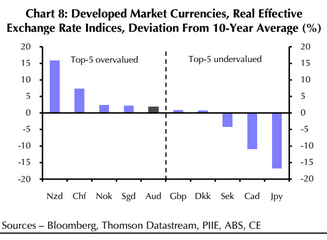 The problem is this period takes in the entire mining boom when the REER was inflated throughout. As we move into a post-China boom environment, the REER will need to fall much further if other industries are to recapture competitiveness.
Advertisement