UBS does some great work with mortgage flow data today to uncover the mystery of why some house prices can rise so fast but credit growth remain weak:
With the housing boom now in full flight the questions keep being asked – Why hasn't housing credit bounced? If it will, when and by how much? To answer these questions we have decomposed mortgage flows (new fundings, redraws, repayments, property sales & refinancings) for the recently completed 2H13. These flows provide an explanation for housing market share winners and losers, and enable much more accurate modelling of credit growth going forward.

New fundings grew 11% in 2H13. But the paydown rate continues to rise.
Across the Majors new fundings (drawn down) rose by 13% to $112bn in 2H13, second only to the 2H09 First Home Buyer's boom. However, given seasoning of mortgage books and lower rates, the mortgage paydown/run-off rate rose by 1% to 17.2%. This left the Majors' 2H13 mortgage credit growth subdued at 2.7% (seq).

CBA & WBC see funding share recover. ANZ improving in proprietary
CBA & WBC have seen strong improvement in fundings, as may be expected given Sydney is at the centre of the housing boom. This has led to a stabilisation in market share. ANZ has seen an ongoing rise in proprietary sales, reducing its reliance on brokers. While NAB continues to grow fundings above its share of 'back-book', its share of new fundings has fallen as other banks have re-engaged.

All banks have seen run-off rates continue to rise. None have seen redraws rise.
The big housing boom will deliver a temporary bounce in credit growth Using this flow model, if: (1) Fundings grow 10% from 2H13 annualised levels (to 40% above the 2011 trough); (2) Run-off rates continue to tick up to 18% given seasoning of books and full period of lower rates; (3) Redraws rise a touch (no material home equity 'ATM' effect). Then: (a) Major Bank housing credit growth will reach ~6.5% in FY14E (system ~6.2%); (b) By FY15E even if fundings grow modestly, our models suggest housing credit growth will decelerate unless paydowns fall. ie The FY14E bounce in housing credit will only be temporary.
Regular readers will know that I've been on the lookout for signs that banks are being forced to look beyond deposits to fund accelerating mortgages. One of the reasons we haven't seen it yet is that the paydown rate has also been growing, freeing up capacity for new lending. But I'm bit surprised at how slow it is relative to the past. A far high percentage of mortgage books were being paid down pre-GFC than post.
My guess is that the banks have not been forced to borrow more money to fund new mortgages is because credit growth has fallen even further than paydown rates so the ratio of fundings to paydowns is still lower than the past. I've charted the gap roughly speaking: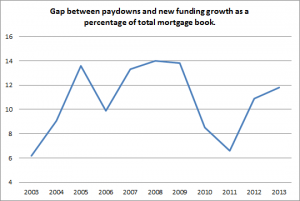 This does correspond with the chart of growth in wholesale funding for mortgages, which was slow in 2003-2005 but took off again from 2006-2009. Rough as guts analysis, but it suggests that once the gap reaches around 13%, wholesale dough is needed. Of course we have higher deposit growth now so that figure could be higher today.
UBS concludes:
Taking these factors into account, our fund flow models suggest housing credit growth is likely to accelerate to around 6.5% for the major banks over the next twelve months. Given the major banks are still winning some market share this would imply system housing credit growth of around 6.2%.

However, unless the housing boom continues at current rates through FY15E, it is likely that housing credit growth will peak around this time and again start to slow through FY15E to a still healthy 5.6%. By FY16E our models suggest that housing credit growth is likely to be back to levels in-line or below levels seen over the last twelve months

Therefore, we believe that the current period of very low interest rates is likely to provide a shot of adrenalin to housing credit growth. However, the law-of-large-numbers and a large pool of seasoning mortgages will likely ensure that it is only a short and relatively subdued housing credit growth cycle. The ongoing structural trend of slowing housing credit growth is unlikely to be broken. As a result, we believe business credit growth will need to carry the weight if system credit is to re-accelerate beyond 2014.
I suspect that there is not enough latent credit capacity to fund an expansion in both housing and business without expanding wholesale funding anyway.
Latest posts by David Llewellyn-Smith (see all)