Knight Frank has an interesting note out today looking the global trends in high net worth individual's (HNW) habits regarding residential property investment (new homes that is):'
The ramifications of the financial crisis are still being felt around the world, and the political instability that emerged after the Arab Spring
is still evident in many countries. Amid this uncertainty the overall trend in global property investment over the past year has been a search for safe havens by investors.

According to the results of our survey, buyers are increasingly drawn to cities they perceive to be sheltered from wider economic issues.
In fact, some 47% of respondents noted that the 'safe haven effect' was the biggest draw for their respective markets.

Locations including New York, Monaco and Dubai fulfil this requirement and, accordingly, international buyers account for a growing share of their respective new-build markets. As well as offering a shelter from wider economic troubles, these locations are felt to offer the potential for long-term capital appreciation. In Monaco and New York prices have increased by 8.2% and 13.6% respectively over the 12 months to June 2013.

Political and economic risk in a buyer's home market was also named a key driver of international demand by 39% of respondents. The euro crisis, for example, has encouraged more buyers resident in the eurozone to look further afield in order to diversify their investments and move at least
a portion of their wealth out of euros.

More punitive wealth taxes within countries like Italy, France and Spain have also encouraged some buyers resident in these markets to look elsewhere.

Business and currency issues were highlighted as other key factors in a wealthy individual's decision to buy new-build property overseas. In the past year the South African rand has taken a tumble, particularly against sterling, giving certain international buyers an effective discount on property.

Government policy can also have an impact. In Barbados, where purchasers are primarily lifestyle driven, recent adjustments to the residency rules that favour high-net-worth individuals have resulted in a spike in property enquiries, particularly at the top end of the market.

Finally, respondents noted that education and lifestyle are playing an increasingly important role when it comes to cross-border property investment. Cities which are home to world-class schools and universities, as well as offering a high quality of life and safe environment, stand to benefit in the long-run.
Clearly Australia falls into the final rationale and Sydney did rank number one with Hong Kong HNWs and number three for Indonesian: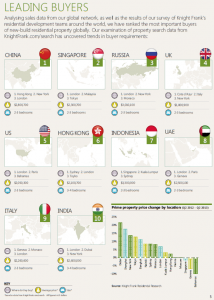 One man's safe haven is another man's bubble.