The AFR today offers a long and not bad feature today on the Victorian gas debate which, sadly, again misses the most crucial point of all. First, it offers angry manufacturers:
Peter Dobney, group manager of resources and energy at packaging giant Amcor, has blunt advice for the Victorian government on the looming East Coast gas squeeze.

It "needs to get off the fence to enable some of those second tier gas producers to do some drilling and get some more gas into the gas market", he says.

Small producers like Lakes Oil, Beach Energy and Ignite Energy Resources are sitting on onshore gas in Victoria "because this government is in self-preservation mode", Dobney tells The Australian Financial Review.

"They just don't want to take a leadership role and get any voters off side."
Next the politics:
Deputy Premier Peter Ryan ­stonewalls. His seat of Gippsland is ground zero in the battle between gas hopefuls and farmers and others opposing development.

"We do not have an industry in Victoria for onshore gas production. We do not have a coal seam gas industry," Ryan tells the Financial Review. "We will see if that industry is able to be developed – but only in circumstances where we make certain we protect those assets we have got."
Enter the analyst (Tony Wood from Grattan)
The gas debate is hard to read because of posturing. Producers want to create enough anxiety to break the logjam on coal seam gas in NSW. Manufacturers don't want to pay a sharply higher market price after decades of getting their gas cheaper than much of the world. Wood suspects they over-state their case. Prices in Victoria will not rise by as much as in NSW because the gas doesn't need to be transported. The difference could be a dollar or more – a handy discount on eastern market prices that are expected to rise to $7 to $8.60 by 2020. The spike could come earlier as markets anticipate the surge in LNG exports. Manufacturers say they are already being quoted prices at the high end of that range for contracts for two years or more, against an average $5.10 for short-term gas and $4.80 on current deals. The high end is close to the export "netback" price – $15 to $16 gigajoule price for LNG exports to Japan less $5 to $6 for freezing and transport.

Past the spike, there are good reasons to believe prices could moderate, Wood says. The Japanese could move more swiftly to restart their nuclear power plant – reducing their gas needs – if they think suppliers are gouging them. Real competition could emerge in a few years time from Canada, the US – where the Energy Department has approved several LNG export projects, with more in the pipeline – and East Africa.
Spot on. But the conclusion?
One thing all parties agree on is that more supply is the key, and for onshore, that means getting farmers onside. "No one wants to see landholders trodden on but if they are going to make a good living out of it and it's not going to poison their water supplies, the government should not be so reluctant to make it happen," Dobney says.
Wrong. The one thing missing form the article is an assessment of the costs of producing terrestrial gas. It is not cheap enough to bring down the price. From Morgan Stanley, here is the modelling of breakeven points for unconventional gas production in Australia for a large and small project: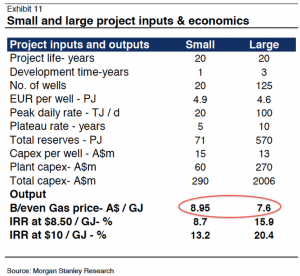 More supply will do nothing to bring down the gas price in Victoria. It may give Victoria a new energy industry, but that is all it will do.
David Llewellyn-Smith is Chief Strategist at the MB Fund and MB Super. David is the founding publisher and editor of MacroBusiness and was the founding publisher and global economy editor of The Diplomat, the Asia Pacific's leading geo-politics and economics portal.

He is also a former gold trader and economic commentator at The Sydney Morning Herald, The Age, the ABC and Business Spectator. He is the co-author of The Great Crash of 2008 with Ross Garnaut and was the editor of the second Garnaut Climate Change Review.
Latest posts by Houses and Holes (see all)