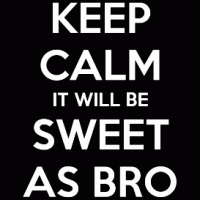 The Real Estate Institute of New Zealand (REINZ) has released its September house price results, which registered an increase in median values nationally, but mixed results across the major markets.
In the month of September, the national stratified median price rose by 0.8% to just under $426,000. Prices rose by 1.8% in Christchurch over the month, whereas prices in Auckland and Wellington fell by 1.0% and 1.9% respectively (see next chart).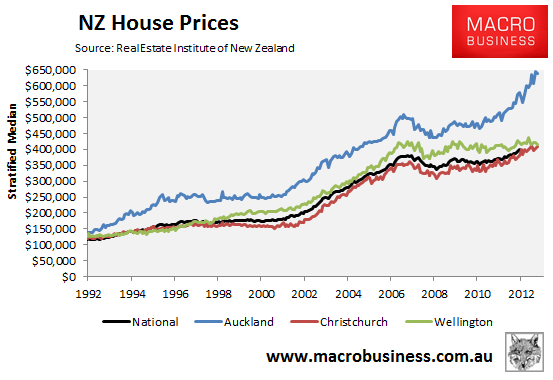 The price changes are shown more clearly in the below chart, which shows the values in index form since 2005: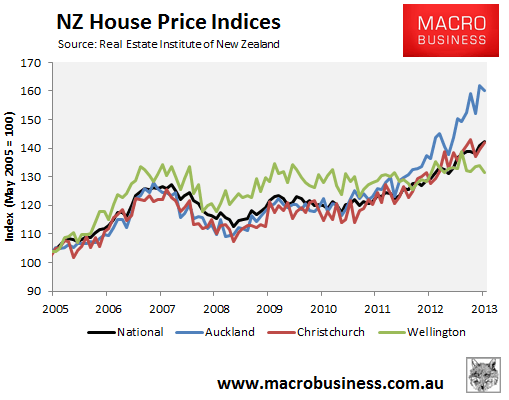 On an annual basis, house prices rose by 9.8% nationally in the year to September 2013 to be 11.8% above their November 2007 peak. Prices in New Zealand's largest city, Auckland, surged by 17.5% in the year to September 2013 to be 25.3% above their July 2007 peak. This was followed by New Zealand's second biggest city, Christchurch, where prices rose by 11.4% over the year to be 13.1% above their 2007 peak. Finally, prices in the capital, Wellington, rose by only 0.6% in the year to September, but were still 2.1% below peak.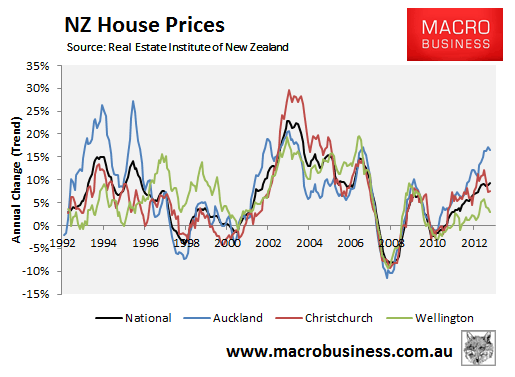 Westpac New Zealand argued the September house price results were impacted by a pull forward of demand from buyers seeking to beat the Reserve Bank of New Zealand's (RBNZ) new curbs on high loan-to-value ratio (LVR) mortgages, which were introduced on October 1:
"The market got an extra boost from buyers keen to beat the Reserve Bank's mortgage restrictions. That would certainly match the burst of extra mortgage approvals we observed shortly after the restrictions were announced. This "beat the restrictions" dynamic may spill over into the October data, as some people who were given approval to borrow in September may have taken a little longer to actually buy."
Since the RBNZ's new curbs were introduced earlier this month, Westpac and ASB (owned by the Commonwealth Bank) have reportedly been withdrawing pre-approvals for some mortgage customers with LVRs, which could act to constrain demand and price growth going forward.
Meanwhile, a BNZ-REINZ survey of real estate agents in early October found that interest from first-home buyers (FHBs) had collapsed.
The percentage of agents saying there were more FHBs in the market slumped to minus 41% from positive 24% in the previous month.
"Almost all measures have registered substantial declines, including the proportion of agents noticing more first-home buyers in the market", according to BNZ economist Tony Alexander.
Alexander also noted that "almost all" measures registered "substantial declines":
"The net percent of agents noticing more investors has remained positive but fallen to 9% from 26% in September.

"Clearly the minimum deposit rules introduced by the Reserve Bank have had an impact mainly on first home buyers – but nonetheless a net 41% of agents still perceive that prices are rising. The average for this reading is 32% and September's result was 51%."

A net 11% of agents feel that it remains a seller's market, down from 30% last month but still above the 8% average.

"Our survey results from this month's 420 respondents shows that the residential real estate market has lost momentum. The question now is how quickly it will regain it," Alexander said.

A net 16% of responding agents this month said they they were seeing fewer people going through Open Homes.

"This is a strong sign of cooling activity and the weakest result on record.
With early signs that their curbs on high risk mortgage lending are beginning to bite, the RBNZ has today stepped-up pressure on the Government to reform the supply-side of the market:
Current imbalances in the New Zealand housing market present risks for both financial stability and price stability, Reserve Bank Deputy Governor Grant Spencer said today.

To reduce those risks will require more responsive supply, as well as restraint on demand, Mr Spencer said in a speech to the Property Council in Auckland.

"The underlying issue in the New Zealand housing market is a shortage of supply. In Christchurch this is a direct result of the earthquakes. In Auckland, the shortage has been growing over a much longer period, with weak rates of house building since 2005."

"But house price inflation has accelerated only over the past two years, coinciding with low interest rates, easier bank credit and a growing trend amongst renters to become first-home buyers. The recent turnaround in inward migration is also adding to the excess of demand over supply."

Mr Spencer said that moves to increase the housing supply are well underway and residential building consents are trending upwards.

"A more responsive supply side is key and will require: a responsive and innovative building sector; an adequate supply of labour, some of which will need to be imported; and a responsive planning and consenting process. The accord between Government and the Auckland Council is a positive step in this direction.

"However, the combined three-year targets of Christchurch and Auckland are very ambitious and it will require a major effort to get near them.

"Given the relatively slow response of housing supply, it does not make sense to let credit-based housing demand get too far out in front."

Mr Spencer said that the loan-to-value (LVR) restrictions on bank mortgage lending, introduced on 1 October, are aimed at moderating house price inflation by reducing the effective demand for housing. While they should help to reduce house price inflation, New Zealand house prices are likely to remain high on most metrics. In this sense it is hard to see how LVR restrictions will materially reduce the existing incentives to develop new residential property…

"The LVR restrictions are intended to reduce the build-up of systematic risk in the New Zealand financial system. They will also potentially reduce the extent of interest rate increases, and hence exchange rate pressure, that may be needed in the coming cycle. The LVR restrictions are also expected to reduce risk in the banks' balance sheets."
Once again, the discussion of housing risks in New Zealand leaves Australia for dead.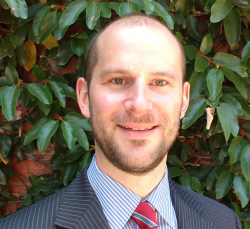 Latest posts by Leith van Onselen
(see all)