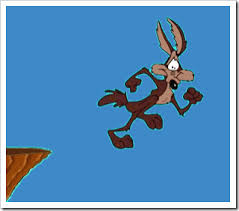 While the RBA is spending its time down the back garden dancing with the confidence fairy, Deloitte Access Economics has joined MB in its diagnosis that the approaching mining capex cliff is very large, very long and too severe to be offset by any non-mining investment. From the AFR:
Australia faces at least another three years of below-average economic growth as a business investment strike gathers momentum, according to a leading forecaster.

In a bleak assessment to be ­published on Tuesday, Deloitte Access Economics warns "hope is fading" for a recovery investment outside the slowing resources industry.

…Deloitte says the value of almost 1000 major investment projects across the nation fell 5.7 per cent from a year earlier to $873.7 billion in September.

The figure has now fallen for three straight quarters, the first such ­sustained decline in a decade, while investment outside the massive mining and gas sectors continues to stagnate.

…The report shows the value of projects under construction fell 3.3 per cent from June, while investments categorised as "possible" are now 18.4 per cent lower than a year earlier.

Mr Smith said the weakness in the line-up of future projects highlights the need for government investment.

…"It's possibly not until 2016-17 that we see growth in excess of 3 per cent," he said.
I will remind readers that the assumptions behind the Deloitte capex pipeline report tends towards the bullish end of the spectrum. This showed up in increases in the "firm" category of project assessments:
New figures from Deloitte Access Economics released today reveal the value of "firm" projects that are yet to start construction has more than doubled to $70 billion in the past year.

"The pipeline of projects continues to astound and potentially leaves room for a further lift in activity," the group says in its report on investment in the September quarter.
All to the good. But not enough. And remember that these figures are for the stock of project dollars. It is the flow of those dollars which will determine growth. Here is the Goldman Sachs capex cliff, which forecasts the flow of spending: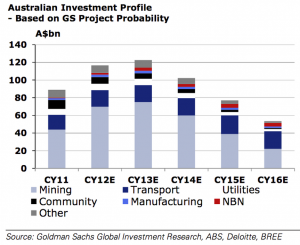 You should know that this is not a "capital strike". That suggests it is voluntary. It is the inevitable consequence of an economy that needs to deleverage, faces a paucity of demand, has been saved from doing so by a 1 in 150 year mining investment boom and, as the rest of the world has deflated to some extent, faces a severe shortage of competitiveness.
With that in mind, here are three points to guide you in the next three years as mining investment tumbles.
1.  Know that business investment is the primary job creator in any economy. Without enough of it unemployment rises, which is what will happen in the three years ahead, mitigated to the extent that government spends and competitiveness is restored, especially via a falling currency.
2. Know as well that this is not an environment in which wild asset market rallies make any fundamental sense. Indeed persistent rises in asset prices combined with falling business investment is a warning of irrational exuberance. That is, a bubble.
3. Finally, as the US has shown, 2% economic growth is survivable if it is managed well, even if the labour market remains soft. But in a world of accelerated change and correcting imbalances it is also a position from which recession is much more likely than normal because the economy has insufficient momentum to see off external shocks like sudden falls in the terms of trade or brief financial crises, especially  if authorities pin their hopes on something as ephemeral as "confidence".
You have been warned!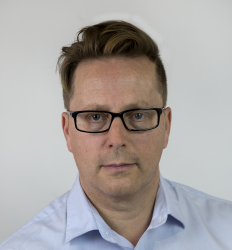 Latest posts by Houses and Holes
(see all)