Find below the iron ore price table for October 25, 2013:

Rebar futures fell sharply again. Here are the charts. For spot: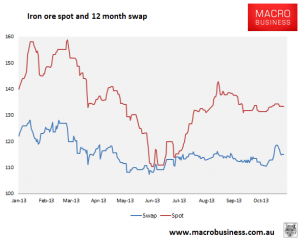 The spot/swap spread: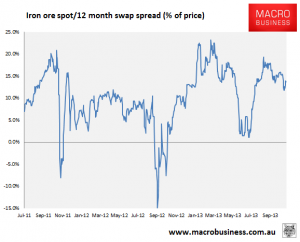 For rebar average: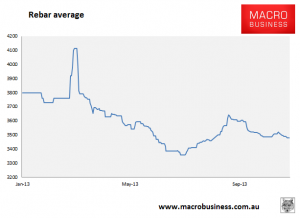 And the spot/rebar spread: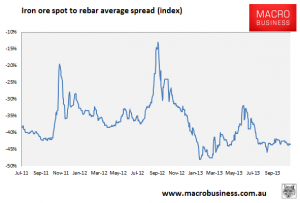 What can one say other than "boring". The volatility we've come expect in the iron ore price is missing in action. Although paper markets still see it physical is not. Whether this is sustainable for the future I don't know. All reports suggest demand for iron ore is weak but now that the traders have a smaller influence on price and the great Chinese stockpile is run down (port stocks came in slightly down at 79 million tonnes last week) the miners themselves seem able to to keep the price levitating.
A quote from Caixin a few weeks ago is apposite today:
The balance of supply and demand or even excess supply may not come as early as buyers expect. But in response to possible pressure, mines have begun to adjust their sales strategies.

"We import around 15 million tons of ore a year," the purchasing manager at the Hebei steel mill said. "This year long-term contracts were around 4 million tons; next year will increase somewhat to 9 million tons. (Purchases from) FMG doubled. Rio Tinto also nearly doubled."

He also said that due to the increase in production, the previous monopoly coalition between the Big Three producers would gradually dissolve due to their own interests.

Some analysts say that by guaranteeing shipments through behind-the-scenes "contract ore," mines can keep new capacity from entering into tender channels and pulling down prices.
That sounds right today. If true, the supply and demand balance will have to tip into material surplus to break the cartel.