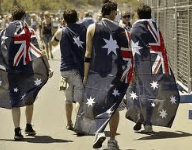 Credit Suisse has today released its 2013 Global Wealth Report, which reveals that Australian households are the wealthiest in the world when measured by median wealth. From the Age:
The median wealth of adult Australians stands at $US219,505 ($233,504) – the highest level in the world, according to the Credit Suisse 2013 Global Wealth Report, released on Wednesday…

Credit Suisse chief investment strategist, Australia, David McDonald said the nation's household wealth per adult grew by 2.6 per cent in the past year. That was slower than the global average of 4.6 per cent, but Australia still had the best distribution of wealth among developed nations…

Australians were shown to have a much higher level of wealth held in property and non-financial assets – 58.5 per cent compared to the world average of 45 per cent and just 38 per cent in the US.
I am not surprised by this outcome. One of the "benefits" of having one of the most expensive housing markets in the world is that it inflates the value of household wealth. Australians along with their Kiwi cousins also have a particularly high exposures to property and a low share of wealth stored in liquid financial assets (see below IMF charts).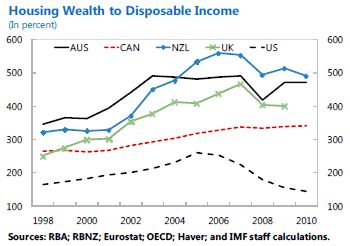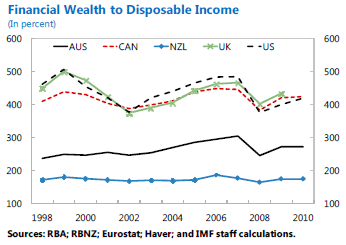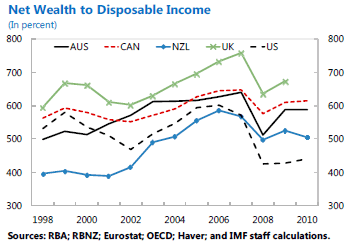 But is having the lion's share of one's wealth stored in illiquid housing really all that beneficial? We all need somewhere to live and higher home values serves little purpose to the vast majority of owner-occupiers, who typically must sell and buy into the same market.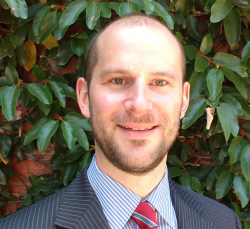 Latest posts by Unconventional Economist
(see all)