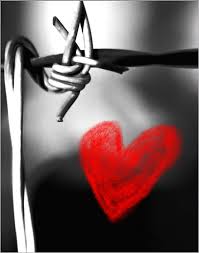 Now that the election is over and it's clear that we're not going to receive any further details of planned budget strategies, it's time to look forward and ask what will be required of Prime Minister Abbott in his first term.
Our first port of call post election will be the traditional hunt and discovery of a Labor "black hole". This will enable PM Abbott to back flip on any number of commitments on saving and spending. Moreover, the post-election bun-fight over carbon pricing with the Greens and independents in the senate throws up any number of possible policy shifts enabling PM Abbott to reprioritise as well.
The question is, what kind of economy will PM Abbott inherit and will any of these measures be appropriate?
To find the answer let's examine the demand and supply sides of the economy. For demand, The Australian has a CEO roundtable that nicely sums up what's in prospect:
"I do genuinely think that people are starting to change behaviour; I think people genuinely are concerned about the future," CSL and Transurban director Christine O'Reilly said.

"We talk about policy giving us long-term views. I think people are taking a very long-term view whereas there was a time that they had a great deal of short-termism in their spending.

"(Now) it's about super and it's about saving and it's about driving down debt and it's about leaving something in the cupboard for hard times, and I think it will take a while to change that."
I'm sure you've noticed how strange this perspective is. Why would you want to "change" the sensible habit of saving for a rainy day? You wouldn't and, as the RBA has already accepted, it won't.
So, for starters, PM Abbott will face an enduringly prudent consumer. The first thing he should do is accept, embrace and work with this reality. Any return to the Howard/Costello era of consumer over-stimulation via public saving, personal tax cuts and low interest rates will not work this time around. Interest rates traction is slipping and any economic narrative that does not support the changed consumer will fall on deaf ears. If PM Abbott cuts spending too hard the consumer will bunker and any tax cuts will go to waste, perhaps after a sugar hit. Because there is unlikely to be any enduring effect on spending, taxes will not lift and the federal deficit will blow out quickly, further undermining confidence. PM Abbott will need to disappoint those households that are counting on a return to the Howard good times of lower taxes and higher income.
So much for the demand side of the economy, what about the productive side? The Australian article goes on:
NAB group executive, people, communications & governance, Michaela Healey said the key was getting small businesses to start employing people again.

"It will require the lifeblood of our country, small businesses, to start to have that confidence to be willing to put more people on that will then support that underlying confidence and that concern about, 'Will I have a job next week?'," Ms Healey said. "So unemployment figures are going to be one of the key indicators that we really need to watch."
But, in a environment of subdued demand, why would consumer facing industries invest? They won't of course, which will mean rising unemployment. As well, the planned removal of the carbon and mining taxes will do next-to-nothing about the real problem afflicting most Australian businesses, a lack of competitiveness. To fix that, we'll need far more radical surgery, getting the dollar down, keeping wages from rising as tradable inflation bubbles up, and deflating property prices. This is tough medicine but it is inevitable as the mining investment boom ends. To illustrate I've created a couple of charts comparing past episodes of falling private capex with that in prospect.
The first is the optimist's scenario in which total capex falls 5% per annum for the next three years. This is an extrapolation of data using the average realisation ratio method (plus a little bit for accelerated declines to cover the LNG mega-projects roll off):
It is sobering to think that for this scenario to transpire we're going to need a moderate housing construction boom, a decent rebound in tradables and a few new big ticket mining projects. As you can see, it would still be very tough. Private capital investment is the driver of jobs growth so this scenario would still see materially rising unemployment.
Now to the realist's outlook. The following chart extrapolates expected capex out over three years using the year on year method (minus a little bit so it's not quite so scary):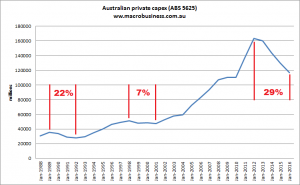 This is a scenario in which we see no new mining projects, tradables rebound slowly and housing investment rises modestly. That is, the path we're currently on.
This is the primary challenge facing PM Abbott. It's not the consumer, it is falling business investment, driven by an historic mining capex cliff that is itself the result of forces in China beyond our control. A more inhospitable environment for an economy fattened on easy gains of debt and endless Chinese demand it would be hard to find. As you can see, falling capex is very often associated with recession.
PM Abbott will receive lots of advice from his keenest supporters, the loon pond that dominates our business media, about how he should let this process run. Our school of mock-libertarians will insist that PM Abbott chase the economy's tail down the rabbit hole with budget cuts as revenue stubbornly refuses to grow. He will have to do the opposite, using public debt to build a bridge of public investment over the the mining capex cliff. He has some small projects committed already but has also planned to pull half the investment in the NBN, well over 1% of GDP and, just as importantly, off balance sheet. It is an understatement to say that PM Abbott will have to find a lot of new public investment to cover the NBN gap and bridge the private capex cliff.
It'll be a tricky balance. Deflating the economy to a point of renewed competitiveness is vital if private capex growth is to resume but letting a chasm open up under national capital expenditure in the mean time will risk severe recession.
The greatest public flash point for this process is going to be labour costs. It doesn't take Einstein to see that the mock-libertarians of Australian public discourse make no distinction between lower wages and higher productivity, even though the two have a much more distant link. It is perhaps here as well that PM Abbott's natural inclinations will also lean most concertedly away from the center.  A push back towards the center in industrial relations is needed and, as argued above, wages will need to be held down as the dollar falls.  But how it is done will be vital to the outcome.
The loon pond will want PM Abbott to go to war with the trade unions. This may reduce wages but it will also create a sustained industrial conflict as the trade unions will be spoiling for the  fight. This will sap national confidence as public discussion is overtaken by vested interest squabbles tearing at a shrinking pie. To prevent this kind of social fracturing, PM Abbott will need, rather, to create a narrative of mutual sacrifice, bringing interest groups together to share a project of increased competitiveness in the national interest. This must be matched by policy in which PM Abbott supports Labor's core constituents, more so even than the rich folks that the loon pond will want to him stroke on the dubious basis of "trickle down" economics.
PM Abbott has shown some encouraging signs that he can embrace centrism when required. His electoral delay of the timetable for surplus is encouraging versus six years of poisonous deficit rhetoric. But he has also shown he will favour interest groups over the nation in the formation of policy – think miners, pregnant women and the rich vis superannuation and health care. This kind of populism won't cut it either. Only a genuine productivity push can narrow the degree to which increased national competitiveness is achieved by falling prices.
The greatest economic challenge of any new leader in living memory stretches before Prime Minister Abbott. He will have to disappoint his core constituents, disappoint households seeking a return to Howard glory days, embrace and disappoint his enemies' supporters as he sweeps Australia into a new and painful national narrative. Only then will he make sense of the economy for all and be forgiven for the tough times ahead.
Latest posts by David Llewellyn-Smith (see all)