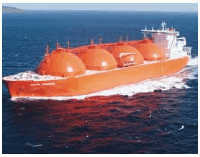 From AAP:
At an LNG producer-consumer conference in Tokyo on Tuesday, the world's largest importer of the fuel, industry minister Toshimitsu Motegi complained about a so-called "Asian premium".

…"Increases in fuel procurement costs impose a heavy burden on the Japanese economy," he added.

…That is because the region's contracts are often long-term and linked to oil prices, Japanese officials say.

Naomi Hirose, TEPCO president, complained that his firm enjoys no price advantage even though it is a high volume LNG buyer.

"I don't understand this phenomenon," he told the conference.

Ms Hirose added that the vast utility was diversifying its energy sources in order to reduce costs.

But officials from gas-producing nations said Japan and other energy importers needed to shoulder some of the high costs of LNG production.
Welcome to the way of the modern Australian miner. Get big enough to be the price maker, not the price taker. Bartho has more:
The tension between LNG producers and their Asian customers continues to rise, with Japan's Economy, Trade and Industry minister, Toshimitsu Motegi, telling a conference in Tokyo today that Japan would work with other customer nations to reduce prices and announcing that Japan would work with India to form a multilateral buyers group.

Japan and India plan to ask South Korea and Singapore to join a proposed LNG ''study group'' of customer nations. The producers want to maintain long-term contract-based pricing linked to the oil price because of the scale of the investment required in LNG projects, and have warned that moving towards spot pricing could undermine the energy security of Asian customers.

At the same conference, the chief executive of Freeport LNG, which is awaiting final approval from the US Energy Regulatory Commission to proceed with a two-train (and potentially three-train) export LNG facility in Texas, said contracts linked to the US Henry Hub domestic gas pricing benchmark would revolutionise the Japanese market.

…It is worth noting that the Freeport agreements (it has previously signed deals with Osaka Electric, Chubu Electric and BP) are all tolling arrangements. It would be the customers who bear the gas price risk, with Freeport receiving flat fees.

Even if Freeport (and the other US group that has regulatory approval to export US gas, Cherniere Energy in Louisiana) do export gas into Asia, the supply and demand equation appears likely to remain tight. Freeport, if it gets approval, would be producing LNG by the end of 2017 at the earliest from its initial train, with the second train in production from the second half of 2018.

There are about 20 potential export LNG projects queuing up for approval in the US, although no-one seems to believe that anything like that number will be allowed to proceed as any meaningful exports of US gas would clearly have an impact on US domestic gas prices. Even if a sizeable number of projects were eventually approved, it would probably be the latter part of next decade before they could have a significant impact on the LNG market and its pricing structures.
Hmmm, I don't think so. That looks like Japan is in the process of building an LNG customer cartel. And the price negotiations are already under pressure with Korea's Kogas dumping a $30 billion deal with Gorgon earlier this year. Australia producers haven't signed a significant contract in years while the US is racking them up. How long is that going to continue before someone makes a break for a Henry Hub contract? Most Australian producers have forward sold capacity but plenty is still idle in the tank. Gorgon, the largest Australian project, has 35% of output uncommitted.
As well, Bartho's always optimistic price estimates (that is will cost $8mmbtu to liquify and ship US gas) is undermined by the IEA which reckons US LNG can land in North Asia at closer to $5mmbtu. Even if we use a median and assume much higher Henry Hub prices than today that's very competitive given the new wave of Australian projects are break even in the $11-12 range: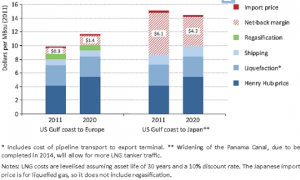 Meanwhile, Australian officials defended their inflated brethren. From The Australian:
Speaking at a major LNG pricing conference in Tokyo, Martin Hoffman, deputy secretary of the Department of Resources, Energy and Tourism, warned that Japan's preference for prices linked to the US shale gas price could backfire, as this price was volatile and could climb.

"That pricing in North America — Henry Hub — is a very volatile price. We have seen it within the last 10 years (reach) three or four times what it is now," Mr Hoffman told the 2nd LNG Producer-Consumer Conference in Tokyo.

"It is a spot price for marginal volume. It is not a price for 10 or 15 years of guaranteed and reliable supply. So I guess when you think about the impact — sometimes, be careful what you wish for."

…Mr Hoffman also warned Japanese gas buyers — who have been pressed into joining the government push to end oil-linked pricing — not to chase the next "bright new shiny thing" in terms of new or unconventional gas projects, warning that these projects often wound up being more expensive than first thought.
"The old rule is: the project is always cheaper before it starts. Everyone promises at the start that a new project, a new frontier, a new region looks great — reality sets in as it starts," he said.

"So I think it is very important to not chase always the bright new shiny thing in the hope it will be cheaper, because it's usually not."
My own view is that the regional LNG price is going to fall. Like it or not the closed loop of regional pricing is breaking. The US is entering quickly and Russia is moving to supply massive gas quantities to China via mooted pipelines. I still don't think it will require taking production out of the cost curve, which would hit Australia hard given its high break even costs, but it will crimp the margins of Australian producers and force them into an enduring period of cost deflation.
For Australia the volumes will be there but the terms of trade will keep falling.
One final observation is the irony of Australia's situation here. In 2008/9 it was our producers and government that broke the iron ore contract system so that we could gouge our Asian clients, ignoring the pleas of the Japanese and Koreans all the while.
David Llewellyn-Smith is Chief Strategist at the MB Fund and MB Super. David is the founding publisher and editor of MacroBusiness and was the founding publisher and global economy editor of The Diplomat, the Asia Pacific's leading geo-politics and economics portal.

He is also a former gold trader and economic commentator at The Sydney Morning Herald, The Age, the ABC and Business Spectator. He is the co-author of The Great Crash of 2008 with Ross Garnaut and was the editor of the second Garnaut Climate Change Review.
Latest posts by David Llewellyn-Smith (see all)