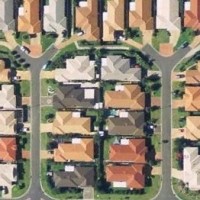 Cross-posted with permission from Dr Alan Moran at Catallaxy Files
It is astonishing the disconnect between those looking at housing from the financial market perspective and those of us looking at the regulatory barriers.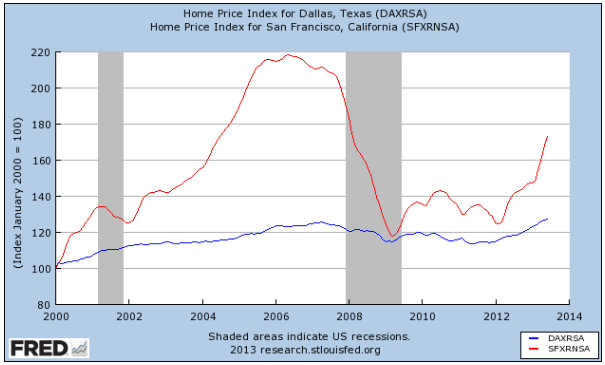 Prices almost doubled in San Francisco between 2002 and 2006 then almost halved to 2010 and have since increased by 40 per cent.
Prices in Dallas rose 10 per cent 2002 to 2006 then fell 5 per cent to 2010 and have since increased by 10 per cent.
It is almost as if they were different countries.
Joye is certainly right to warn of the RBA seeking to accommodate the boom in housing prices – the San Francisco trend is testimony to what happens when central banks do that.
But missing from his analysis is the factor that has driven the different outcomes seen in Dallas (and most of the south, and mid west) and San Francisco (and most of the west coast and east coast).  And this is the land supply to allow flexibility of new building.  In places like Dallas, land supply is not regulatory suppressed by the government.  In California, the land supply is strictly controlled and prices are high so that new home prices are also high and these levels are reflected throughout the urban areas.  The price oscillations when demand softens are considerable.
Australian urban areas are like San Francisco.  Governments have bent to a Baptists and bootleggers alliance.  The Baptists are environmental activists against urban sprawl and productive uses for land; the bootleggers are speculators and developers (boosted by recent buyers of new over-priced properties) wanting to maintain prices.  The would-be new home owner is crushed between them being forced to pay $100,000 to $200,000 more for a new house than its underlying value.  State governments in Victoria and NSW are seeking to tilt the balance back to the consumer but the interest groups and the residue of regulations and bureaucracies assembles over several decades may make this difficult.
Joye barely recognises the supply side issues stem from land supply.  But he does finish with:
"A final concern is Australia's housing supply challenge. We do need to build many more homes to accommodate the circa 15 million additional residents that will live here within 35 years.
 "Developers do require positive price signals to commit scarce capital to constructing new supply. If our mounting supply-side deficiencies are allowed to accumulate we could see an even more exaggerated housing market cycle."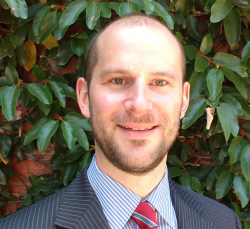 Latest posts by Leith van Onselen
(see all)