Mac Bank has a note out today arguing the latest signal coming from the Baltic Dry shipping index is misleading: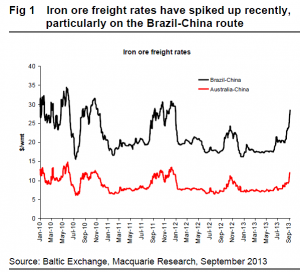 Once or twice a year, the bulk freight market emerges from its slumber and gets very excited about demand volume potential. We are certainly amid one of these phases, with the Baltic Capesize Index rising 90% over the past month. This is despite the fact that the shakedown from excess supply capacity is only at the early stages of being addressed. In our view, this rally is another case of the freight market getting a few years ahead of itself. While the outlook for sequential freight demand is certainly improving, with increased iron ore shipments expected in Q4, there remains more than enough capacity to cover this. In the interim, however, it does act as an additional cost to producers through lowering export port netbacks, and piles yet more pressure on US coal suppliers seeking to price into Asia.
Rates on the key iron ore routes have followed the general cape trend, with Brazil-China reaching $28.5/wmt for the first time since the end of 2011, and Australia-China at $12.1/wmt compared with a $7.3 average for the first half of the year. In general terms, the rally has been a Cape-led phenomenon, with Panamax rates relatively flat. As a result, the Cape-Panamax $/day rate is now within a whisker of 3, a level not seen in recent history. It is also a level we would consider unsustainable on a relative value basis, with substitution efforts now likely to be accelerated.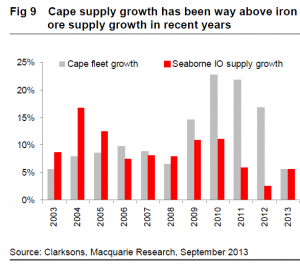 The underlying question remains whether these freight rises are fundamentally justified. We would suggest not – indeed far from it. Certainly the demand outlook has improved, as with many commodities. However, bulk freight is the prime example of a market where Chinese overinvestment has seen excess capacity build over recent years, with several years of underinvestment required to bring this back to balance. Figure 9 shows the level of Cape fleet growth over recent years – well in excess of seaborne iron ore growth – resulting in huge amounts of idle capacity. In our view, while demand growth is helping, 2013 is only a year which is stemming the flow rather than even redressing the balance, and there will be more than enough bulk ships in the world for the foreseeable future. Certainly freight rates were too low over much of this year to be sustainable – the bankruptcy of STX Pan Ocean highlighted this – however current levels are equally out of alignment with the fundamental market. Meanwhile, order books for bulk carriers have actually picked up this year, suggesting the oversupply problem could be further prolonged.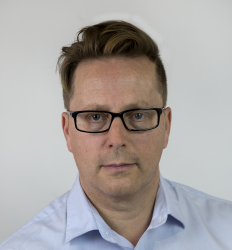 Latest posts by Houses and Holes
(see all)