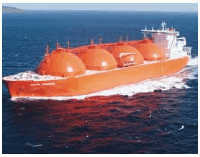 Last month, the Australian manufacturing industry is stepped-up lobbying efforts to have a proportion of Australian gas supplies set aside for domestic use, as occurs in the United States and Canada. Specifically, the Australian Industry Group (AIG) released a report warning of a looming domestic "gas crisis" and seeking a "national interest test" for new LNG export facilities, whereby potential costs on domestic industries would be weighed-up against benefits before an export approval is granted.
The lobbying follows concerns that Australian industry is facing escalating gas prices and, in some cases, struggling to access gas altogether, as more and more LNG is exported overseas. Accordingly, Australia risks immense harm to employment and economic activity unless adequate, affordable gas supply is made available.
Today, The Australian has published an article warning that with the commencement of LNG exports to Asia from mid-decade, which is expected to triple eastern Australian gas demand, New South Wales faces higher gas prices, job cuts and a significant risk to the state's energy security unless it begins to develop the coal-seam gas sector:
James Baulderstone, vice-president of eastern Australia at Santos, said without indigenous gas of its own, NSW had no ability to control its energy supply security.

"NSW faces prospective gas shortages as long-term contracts underpinning the state's gas supply expire over the next two to three years, the very time in which the commencement of LNG exports from Queensland will see annual gas demand in eastern Australia triple," he said.

"Looming natural gas shortages in NSW could be avoided by the timely and balanced development of the state's already discovered reserves of natural gas."
With a "gas cliff" expected in 2016 as major east coast LNG export terminals come on line, gas shortages and rising domestic prices are likely to become more pressing, forcing Australia into developing unconventional gas supplies like coal-seam gas, with potentially risky outcomes for agricultural security.
Go the other way and there's a risk that for every dollar earned from exporting gas to Asia, Australia faces losing some portion of it in lost value-added local production.
We know that the US shale gas revolution is exporting more of its output to Asia and doing so on Henry Hub based contracts, which suggest that the current North Asia landing rice of $16mmbtu will come down to something more like $10-12: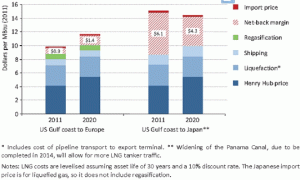 However, the new wave of local gas production sits on the cost-curve at just this price range so the price will struggle to fall below $12: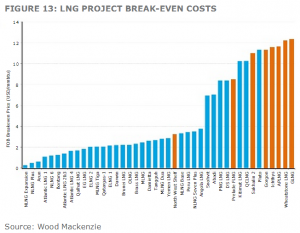 Assuming the volume of US exports is great enough, and it is probable that they will be with 15 million tonnes of export capacity already approved and much more in the offing, Australian projects are going to need to find efficiencies to lower their cost bases.
It costs about $5mmbtu for Australian gas to be liquified and shipped so in this scenario the local price is likely to settle around $7.  This is a more than doubling in the price from a few years ago but it has largely already happened. Add a likely falling dollar and in a few short years Australian and US gas prices will have equalised, meaning Australian manufacturers are at no disadvantage to their US brethren.
Should we reserve then? The regional price is going to fall. Reserving will inhibit that. It will also put a lot of pressure on the new mega-projects that already have questionable margins as they're forced to sell cheaper gas locally.
It bares close watching but for now it may be better for all sectors to let markets adapt.
Leith van Onselen is Chief Economist at the MB Fund and MB Super. Leith has previously worked at the Australian Treasury, Victorian Treasury and Goldman Sachs.
Latest posts by Leith van Onselen (see all)