On ABC's 7.30 Report last night, Prime Minister Kevin Rudd launched an attack on the Murdoch press, which he views as overtly biased against the government:
LEIGH SALES: Let me ask you one final question. On your stoush with Rupert Murdoch this week, I don't recall you complaining about bias or corporate agenda when he backed you in 2007.

KEVIN RUDD: If you look carefully at the events of 2007, what you will see, Leigh, written right across the newspapers at that time was a whole series of negative attacks, negative articles, including the most personal attacks on me and my family in the years leading up to that election. You seem to have forgotten those in this discussion. I could list those for you one by one, which went to my wife, her business and the rest of our personal affairs as well. So let's put that into a bit of context.

The second point is this: I have not said anything about Mr Murdoch doing X, Y and Z. What I've said is he owns 70 per cent of the print media in the company – fact one. Fact two, day one of the campaign, through his principal masthead in Australia, they say "This government must go". Thirdly he says through his own direct statements that he wants Mr Abbott to replace me as Prime Minister. That's fine. That's his democratic right. It's a free country. But the question that I've posed through this is simply as follows: what is underneath all this? Is it to do with the National Broadband Network representing a commercial threat to Foxtel? I've seen some commentary on that, and I've only just been looking back on the files today and discovered that in fact Mr Abbott's NBN policy was launched at the Fox Studios here in Sydney. I would like to hear some answers as to what discussions Mr Abbott may have had with Mr Murdoch on the future of Australia's National Broadband Network.
It's hard to disagree with the Prime Minister's critique. Upon calling the election, Murdoch's Daily Telegraph produced the below front page revealing in no uncertain terms its political bias: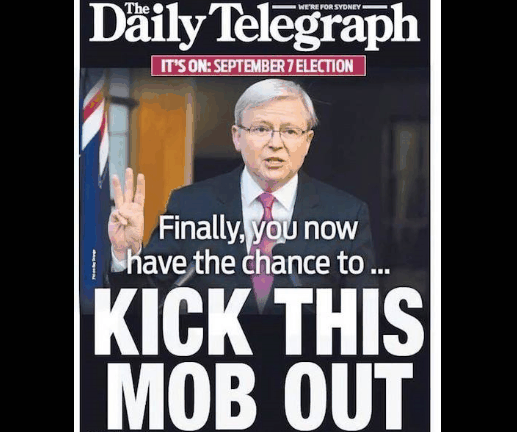 The above front cover brings back memories of Fox News' (also owned by Murdoch) blatant bias against Democratic candidate, John Kerry, in the lead-up to the 2004 Presidential election, as well as Fox's ongoing attacks on the Obama administration. It is also the type of bias that I hoped would never find its way into Australian mainstream media.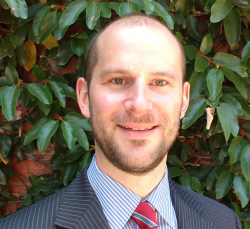 Latest posts by Unconventional Economist
(see all)