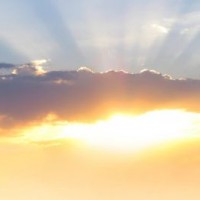 Yesterday the Twitterverse was agog at the likelihood that after six down days in a row the Dow was likely to rally last night – and so it came to pass with US stocks up across the board even after the Nasdaq had to suspend trading after some glitches hit its network.
At the close, the Dow was up 0.45%, the Nasdaq rose 1.09% and the S&P 500 rose 14 pts of 0.86% to 1657. European stocks were similarly ebullient with the FTSE up 0.88%, the Dax rose 1.36%, the CAC rose 1.09%, while stocks in Milan and Madrid rose a pretty solid 2.56% and 1.99% respectively.
Supporting the expectation that stocks were going to bounce was the better than expected data out of China yesterday which saw the release of the HSBC flash PMI print at 50.1 for a massive bounce from the 47's last month. But data in Germany and France, which was lower for their manufactiing PMI belied the fact that somehow the EU area manufacturing PMI managed to rally.
Anyway it strikes me that last nights move was more about pessimism fatigue than anything else really and the market came ready to buy because everyone thought that after six days, the Dow should rally – and so it did.
Rates traders weren't so excited though, with US 10's a little lower than the highs in overnight Asian trade yesterday but still finishing at 2.89%. Bunds were higher though at 1.92% and Gilts are at 2.72%. This divergent price action just reinforces to me that the stock move was about the recent sell-off and nothing more.

Other data released last night showed Initial Jobless claims in the US rose from last week's four year low of 323,000 to 336,000 and the US Markit manufacturing PMI was 0.1 higher at 53.9.
On FX markets after some heavy selling yesterday morning the Aussie dollar found a floor just before the release of the HSBC Chinese PMI, which has me and many others believing that the data integrity needs to be questioned again as it appeared to have leaked into the market pre-release. Indeed it is my view this was likely the case and certainly the twitterverse seems to conclude that it was the case too.
Now of course it could be a lucky guess with some big trader somewhere just deciding the data was going to print better and running a position accordingly. But there is a pattern of trade in Chinese data releases – or should I say pre-release which continues to reoccur and where there's smoke – well you know the rest.
This is not just the view of one grumpy trader who was short Aussie dollars because I was only small short and have taken the rally as an opportunity to go very short once more. But for the sake of market integrity, HSBC and Markit must act to ensure that at the very least it is only traders punting on better data that is driving pre-releases not a leak of data which is what old timers like me and the Twitterverse are very suspicious off.
Indeed I reduced my shorts from 5 or 6 units to 2 units by yesterday morning and I was seriously considering squaring up into the HSBC PMI when my TwitterFeed started going a bit psycho about the data being leaked. But I am core short, and in a bear market I'm bearish, so I left the positions on.
So I'm under water at the moment in both accounts but not worried because the Aussie's rally has clearly been met with some serious selling as the reaction in FX markets has been to recognise that a shift is on and that a knee jerk Aussie rally in the face of Emerging Market ructions and a struggling Australian economy would be a very optimisitic long.
As I tweeted yesterday, even though I was short Aussie I was reminded of what happened after the last ramp in the Aussie – which was a rally and then a huge sell off. It is as though the half life of Australian Dollar positivity is getting shorter.
The view is still that the Aussie is headed back to the 0.8830-60 region and then we'll see.
In other pairs Euro (1.3355) is largely unchanged after recovering off a 1.3297 low. GBP (1.5585) is down 0.4% but also well off the lows and the Yen is under pressure with USDJPY up more than 1% to 98.73.
On Commodity markets Gold was up to $1372 a rise of almost $20 on the low yesterday, Nymex Crude was up 1.27% to $105.17, Dr Copper was back at $3.33 lb and our friends the Ags were at it again with Corn down 1.91%, Wheat fell 1.37% and Soybeans were 0.83% lower.

Data
On the data front a fairly quiet slide into home plate this week with FDI in China, GDP in Germany, again, GDP in the UK and New Home Sales in the US.
Have a great day
Greg
Latest posts by Deus Forex Machina
(see all)