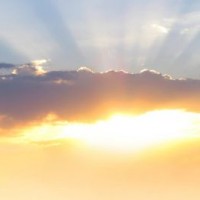 Stocks in the US didn't rally last night but you would have to ask yourself why not given the Goldilocks nature of the releases.
GDP data was stronger than expected coming in at 1.7% (annualised, not really strong but better than expected) with a GDP deflator of just 0.7% against expectations of 1.0% down from 1.3% last time. ADP private payrolls were also higher printing 200,000 against expectations of 182,000 which might be a good lead on non-farm payrolls Friday.
So better than expected growth with little evidence of price pressures.
This was followed up by a Fed that then seemed to push back the taper as House and Holes writes in his piece this morning. There is always a lot of parsing the Fed's words and there is always a lot of prognostication about what this word or that word might mean. And while I agree with the characterisation that Fed noting that growth is now "modest" rather than "moderate" is an important nuance I also like to throw central bank statements into Wordle and see what pops out.
I took out the word "committee" out because it just confused things but inflation is clearly a focus.
On this topic the Fed said:
The Committee recognizes that inflation persistently below its 2 percent objective could pose risks to economic performance, but it anticipates that inflation will move back toward its objective over the medium term.

To support a stronger economic recovery and to help ensure that inflation, over time, is at the rate most consistent with its dual mandate, the Committee decided to continue purchasing additional agency mortgage-backed securities at a pace of $40 billion per month and longer-term Treasury securities at a pace of $45 billion per month.
The Fed also made it clear that rates are going to be very low for very long:
To support continued progress toward maximum employment and price stability, the Committee today reaffirmed its view that a highly accommodative stance of monetary policy will remain appropriate for a considerable time after the asset purchase program ends and the economic recovery strengthens. In particular, the Committee decided to keep the target range for the federal funds rate at 0 to 1/4 percent and currently anticipates that this exceptionally low range for the federal funds rate will be appropriate at least as long as the unemployment rate remains above 6-1/2 percent, inflation between one and two years ahead is projected to be no more than a half percentage point above the Committee's 2 percent longer-run goal, and longer-term inflation expectations continue to be well anchored.
So you may be asking as a believer in Septaper what do I think now? I guess I have to say that I am less convinced that the Fed will taper in September now that they have explicitly focused on inflation as James Bullard wanted and given the GDP deflator in the Q2 GDP release last night.
But at the close, stocks seem like they are less worried about the renewed focus on inflation, or lack there of, and what it means for the taper and more worried about the data strength and what it means for the taper. Perhaps they don't like modest, who knows but at the close the Dow (15,500 -0.13%) was 134 points off its high, the S&P500 (1686, no change) was 12 points off the high of 1698 and the Nasdaq was also off its high but managed to close up 0.26%. In Europe the FTSE (+0.76% @6621), DAX (+0.06%) and CAC (+0.16%) were all higher but Milan and Madrid fell 0.37% and 0.28% respectively.
Here at home Australian stocks were stronger yesterday with futures trading up to 5056 but they have sold off since and are at 5009 on MT4 this morning – watch a break of 4997.
On global FX markets good US data prints and a Fed that seems more dovish made for a wild night with the Aussie (0.8949) getting smashed down through the range bottom to a low of 0.8936 after the Fed announcement. But it was the only major currency that lost ground with the USD generally a little weaker. Euro (1.3298) had a big night too moving through a 1.3213-1.3344 range. GBP (1.5195) was similarly buffeted but is roughly unchanged as is the yen (97.78) which traded 98.52 down to 97.56.
The Aussie dollar has been under pressure for 3 months now – ever since investors woke up to the fact that Australia was not immune to global or indeed Chinese economic weakness – and the US economy started to look a lot healthier than it had and the Fed talked about the taper.
But for the last month and a half the Aussie has been in a big old 90-93.30/50 Darvasian box.
That was until last night when the release of the better than expected US GDP knocked the Aussie down through the bottom of this range to an eventual post FOMC low of 0.8936. This level is not far off my long held target of 0.8912 which was a 138.2% fibonacci extension I identified some time ago and have communicated many times. So believe it or not I am not going to get too bearish once we get near my target.
Having said that, Darvas says that once the box breaks and we move into the next box we don't reverse unless the Aussie can trade an hold back above 90 cents. Lets say the Aussie is biased lower unless it can regain 0.9035.
On commodity markets, Nymex crude was up 2.01% to $105.05 Bbl, copper was up 2.53% (3 bucks a pound held again) and gold recovered from early loses to be roughly unchanged at $1323 oz. Corn rose 0.71% and soybeans were 1.78% higher.
On the Data front there is no let up today with the Australian Performance of Manufacturing index, Chinese NBS manufacturing PMI and the HSBC version of same, Australian import and export indexes, Indonesian trade and inflation, and a raft of updated Markit PMI's in Europe and the US as well as the BoE and ECB rate decisions. Of course initial jobless claims in the US is also important as is the ISM.
Twitter: Greg McKenna
Latest posts by Deus Forex Machina
(see all)