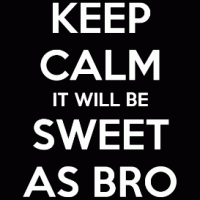 The Real Estate Institute of New Zealand (REINZ) has released its July house price results, which registered falls in New Zealand's two major markets and nationally.
In the month of July, the national stratified median price fell by 0.5% to $413,124, with prices in Auckland and Christchurch – New Zealand's two biggest cities – falling by 4.4% and 4.1% respectively, whereas Wellington – New Zealand's capital and third biggest city – recorded a 1.3% increase in values (see next chart).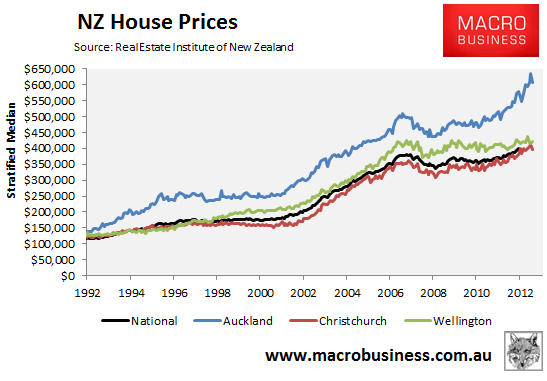 The price changes are shown more clearly in the below chart, which shows the values in index form since 2005: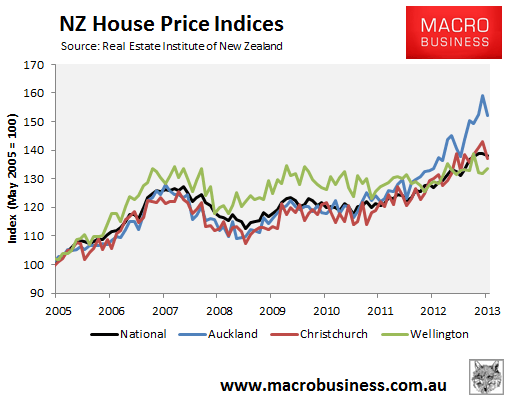 On an annual basis, house prices rose by 8.6% nationally in the year to July 2013 to be 8.5% above their November 2007 peak. Prices in New Zealand's largest city, Auckland, surged by 13.9% in the year to July 2013 (but have clearly moderated) to be 18.8% above their July 2007 peak. This was followed by New Zealand's second biggest city, Christchurch, where prices rose by 5.4% over the year (but have also moderated) to be 9.2% above their 2007 peak. Finally, prices in the capital, Wellington, rose by 3.7% in the year to July but were still 0.6% below peak.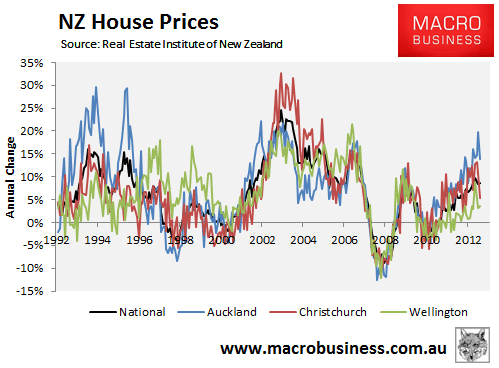 There are reasons to believe that New Zealand house prices could come under pressure over coming months.
First, housing loan approvals look to be faltering, with both rolling annual and year-on-year growth of loan approvals turning down over the past three months (see below charts).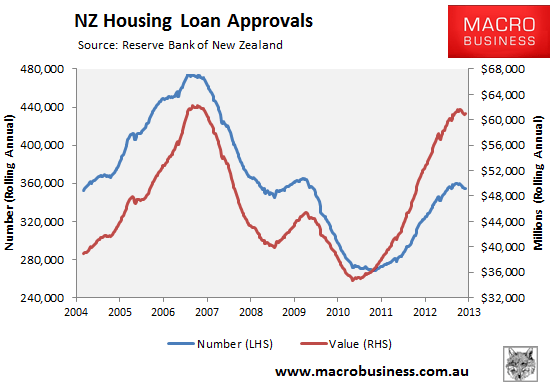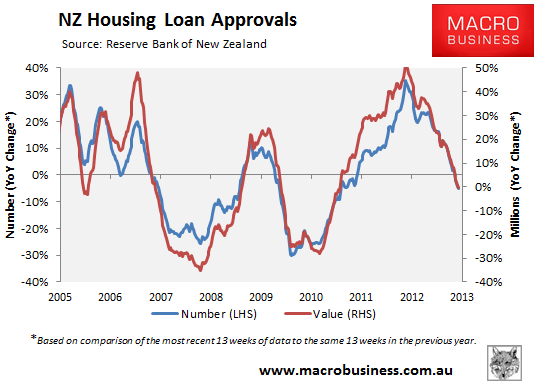 Secondly, the average mortgage size has fallen: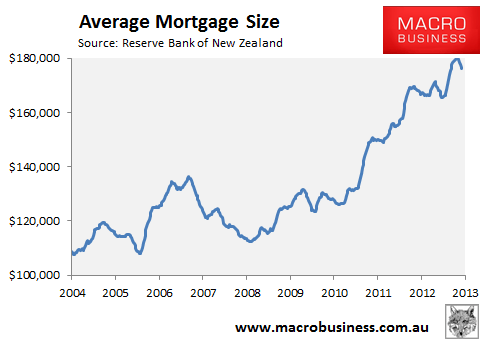 Finally, the latest ASB Housing Confidence Survey has registered a marked downturn in the numbers of people picking now as a good time to buy a house, with Auckland leading the falls.
The perceived headwinds come as the National Government has pledged to relax terms for first home buyers (FHBs) using KiwiSaver (retirement) funds as home deposits, in a bid to prevent FHBs from being locked-out of the rising market and by the Reserve Bank of New Zealand's (RBNZ) expected restrictions on high loan-to-value ratio (LVR) mortgage lending. While the Government will relax the price caps and income limits on KiwiSaver funds, it is also increasing the minimum required deposit to 10% (from 0% currently), which should temper the inflationary impact from the changes.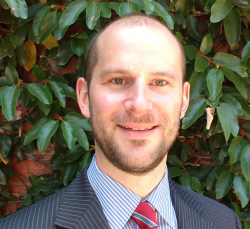 Latest posts by Leith van Onselen
(see all)