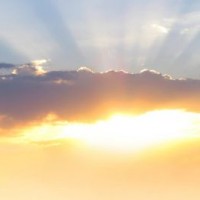 Markets in the US made a new all time closing high on the Dow and S&P again overnight after the Chinese GDP data was not as bad as it might have been and many feared and the weaker than expected retail sales which print just 0.4% against the 0.8% expected undermined notions of the taper a little further at a time when the banks in the US are absolutely on fire. Citibank reported earnings up 26.2% on the quarter largely because of buoyant markets even though mortgage originations slowed.
The highlight of this week is clearly the Fed Chairman's march up Capitol Hill to address lawmakers in his semi-annual speech we used to call the Humphrey Hawkins back when it was Greenspan doing the talking. Another interesting parallel with Greenspan was something I saw written by Ed Yardeni, via Business Insider, this morning where he talked about the return of irrational exuberance.
A little back ground on Ed for those who don't know him – he is a bloke I used to follow years ago when he was at Deutsche Bank in New York and he was one of the first market strategists to have his own blog/website on his thoughts. I have always enjoyed reading him and last night he wrote:
The market's reaction to Bernanke's comment suggests that the Irrational Exuberance scenario is back in play. I still assign it a 30% probability. However, it is certainly looking more credible again now that the S&P 500, S&P 400, and S&P 600 are all at record highs. Valuation multiples remain rational, and record highs in forward earnings suggest that the fundamentals continue to support those valuations.

We may be in for another four years of this bull market if it doesn't melt up over the rest of the year.
I remain under-invested in stocks and take the lack of bearishness in the market as a potential sign that much is built into stock prices. I'll stick with this position but the chances of a blow off seem to be increasing.
Looking at the technical set up though there is a clear level to trade off whether you are bearish or bullish. Of course readers know I'm not exactly a stock market bull but the S&P is closing in on a break of the all time high and based on a system I use of high, retracement to Fibo support and then move back to the high it is close to signalling a Fibonacci extension. Of course I will respect the high unless or until it breaks but if we see a weekly close above the current high it will target a move, drum roll please, to 1835/40. Now of course every fibre of my being is fighting that notion but the daily and weekly JimmyR is pointing higher – so at the very least I won't be shorting until I get a clear signal to.
At the close the S&P 500 which rose 0.17% to 1683 and the Dow which closed 0.13% higher to 15,484 and the Nasdaq was 0.19% higher. In Europe stocks closed off their highs except in Milan which finished up 1.08%. The FTSE was 0.63% higher, the DAX rose 0.27%, the CAC was up 0.62% and stocks in Madrid rose 0.13%.
Bonds were better bid as well with Portuguese 10 years down 21 basis points while those in Spain, Italy and the US rallied about 4-5 basis points.
On FX markets it's a time of range trading as we all await the fed Chairman later this week and the interest rate outlook he espouses will be the primary driver of the US dollar and FX markets in the sessions after he speaks given that the moves in the Euro, GBP and JPY recently have been about relative interest rate moves.
There are clear levels in all these currencies to trade off. On the day USDJPY has the clearest levels with 99.49 support and below that 98.80 which I would consider a big break. For the Aussie today a break of 0.9120/30 would open up a decent topside run while the euro levels are support at 1.2990 and resistance at 1.3092/1.3104.
We need to watch the Aussie in particular today at the release of the RBA minutes at 11.30. How bearish will they be on the economy? Probably not as bearish as they might have been before RBA Governor Stevens lame joke about the deliberations. So the Aussie might catch a lift.
On commodity markets, if gold breaks 1302 I am going to go long for a little run higher of maybe up to $30. Obviously with gold in the $1280's that seems some way away but it fits with the overall US dollar risks as articulated above for later this week. On the other hand the 4 hour charts suggest that a break of $1273 to the downside would be the break of a little flag and so turn focus lower. As I said there are clear levels to watch across the board at the moment in many markets.
Nymex crude was up a little further as well rising 0.49% to $106.47, silver was 0.24% higher at $19.92, copper is at $3.17 lb and corn and wheat fell 1.56% and 1.69% respectively while soybeans went the other way rising 1.73%.
Data
New Zealand CPI and RBA Board minutes before UK and EU CPI and German ZEW survey. The US also has CPI out which could be important given the Fed is fighting potential deflation and this could impact Taper talk. Industrial Production, Capacity utilization and the NAHB market index are also out in the US.
Twitter: Greg McKenna
Latest posts by Deus Forex Machina
(see all)