Find below the iron ore price table for July 9, 2013:

I little rolling over but I still reckon there's life in this move. Chinese port stocks rose slightly to 77 million tonnes.
In news, Platts has gone into bat for high iron ore prices:
Platts believes there is good reason to suggest that the iron ore price will hold steady at between $US100-$US120 a tonne.

Such a forecast is at odds with predictions by analysts working at investment banks. They forecast iron ore dropping below $US80 a tonne some time in the three months to September 30. That has drawn a predictable reaction from mining executives.

"There have been a number of research houses saying some rather alarmist things about the iron ore price and the demand and supply balance over the next couple of years" Platts quotes Jonathan Fisher, general manager of corporate finance at Atlas Iron, as saying.

"But you're starting to see a level of comfort around the fact that the iron ore price is not going to dive to the levels it did last year" when the iron price fell below $US80 a tonne. "There is a seasonal dip in iron ore every year in September and October but this year we don't expect it to be as much of a catastrophe as it was last year."

Ausdrill's Jose Martins agrees that analysts are overly pessimistic.

"I think the big problem from my point of view from speaking to the market is that equity analysts and investors unfortunately only have a three-month horizon," Platts cites Martins as saying. "The investment community on the equity side just doesn't care, doesn't look that far, they just want to fall into a chasm of pessimism right now."
OK then, let's analyse this. Is a big drop likely in September? On the 'nay' side there is Chinese inventories which are much leaner at mills and ports than they were in either 2011 or 2012. The current restock will be important in determining any rise but is unlikely to result in a big boost.
On the 'yay' side we have two points to consider. The first is the cyclical slowdown that happens every year. Here are the price falls for the past four years:
September 2009 -30%

September 2010 -10%

September 2011 -30%

September 2012 -35%.  
The second point to consider is that there is a rising risk that we'll see demand falter in the second half as Chinese credit curbs take effect. The September 2011 fall was exacerbated by the Chinese credit crunch of the day and the 2012 falls were exacerbated by the economic fallout. And this year we still have higher than usual steel inventories.
I'd say the odds of a material September quarter price fall are pretty good but probably not as deep as last year.
But all of that is really beside the point. As the miners suggest, we should be looking further out and this is what we see in the iron ore supply and demand curve: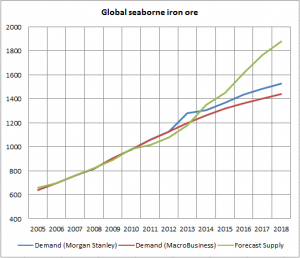 That's pretty damning for the long term price and is the real reason why Australian miners are on the nose with investors who are looking much further out than the miners and not liking what they see.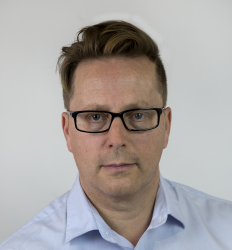 Latest posts by David Llewellyn-Smith
(see all)