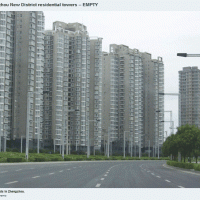 Ordos in inner Mongolia has regularly been cited as the quintessential example of China's unsustainable construction-led economy.
In 2009, AlJazeera posted an explosive video showcasing Ordos' ghost apartments and frenetic pace of construction, which exemplified the "build it and they will come" approach that has underpinned the Chinese economy. AlJazeera provided a follow-up in 2011, which was equally revealing.
Then Business Insider posted a slideshow of China's empty cities, headlined by Ordos.
And in late 2011, a video from NTD Television showed how Ordos' home prices were crashing, having fallen by almost one-third. Meanwhile, construction had finally ground to a halt, leaving many construction workers unemployed.
Then last year, a video from the Atlantic  followed a group of skaters through Ordos, showing a city that appeared almost completely empty three years after Aljazeera's first ground-breaking report.
Now it appears the city has gone bust. According to Bloomberg, apartment sales have ground to a halt and a myriad of cranes now stand silent amid half finished developments:
"In the past few years there was a lot of coal so people came from all over the country," says Gao Wei, 30, smoking in an office that deals in second-hand construction machinery and had no clients that day. "Now the economy has collapsed, they've all gone"…

Fueled by a boom in coal production, Ordos saw a building spree in recent years, with an expanded airport, a sports stadium and the new area of Kangbashi where high-rise apartments surround an artificial lake. Many local residents owned two to three homes each…

Now the local government's revenue is falling because the property crash has scuppered land sales, while residents no longer have compensation to buy property and make loans… About 70 percent of Dongsheng district's real estate market was funded by private lending that has now stopped…

When the government sold land over the past few years, it always used the funds for infrastructure construction, Zhang said from the sales office of a new apartment complex with 1,000 units. "Now they don't have any money." Meantime, the city's coal rush has dried up amid sluggish domestic demand, with prices dropping to an almost four-year low.

That hasn't stopped efforts to keep the boom going…

Some Ordos district governments had to borrow money from companies to pay municipal employees' salaries…

"Ordos is a warning to other places in terms of how to guide the local economy and in what not to do," said Yao Wei, China economist at Societe Generale SA in Hong Kong. "The local governments are still not waking up to what they should do in this new environment"…
Consider for a moment how much of Australia's iron ore and coking coal has gone into the construction of such projects, and what will happen to commodity prices when construction across China inevitably slows.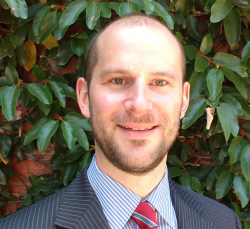 Latest posts by Unconventional Economist
(see all)