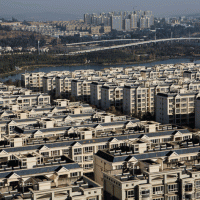 China's ghost cities, the most famous of which is Ordos in inner Mongolia, have regularly been cited as a prime example of China's unsustainable construction-led economy.
In 2009, AlJazeera posted an explosive video showcasing Ordos' ghost apartments and frenetic pace of construction, which exemplified the "build it and they will come" approach that has underpinned the Chinese economy. AlJazeera provided a follow-up in 2011, which was equally revealing.
Then Business Insider posted a slideshow of China's empty cities, headlined by Ordos.
And in late 2011, a video from NTD Television showed how Ordos' home prices were crashing, having fallen by almost one-third. Meanwhile, construction had finally ground to a halt, leaving many construction workers unemployed.
Then last year, a video from the Atlantic  followed a group of skaters through Ordos, showing a city that appeared almost completely empty three years after Aljazeera's first ground-breaking report.
And who can forget 60 Minutes' explosive video earlier this year showcasing China's ghost cities.
These kind of malinvestments – projects that cost billions of dollars but provide but little economic return – have the potential to become a millstone for China's banks and economy going forward, subtracting from its growth potential.
With the real estate market accounting for around 10% of China's GDP growth, and affecting many related industries, there also remains the concern that construction and sales could ultimately grind to a halt, crimping local government land sale receipts and dragging China into a sharp recession.
Over the weekend, Foreign Policy published eerie photos from the district of Chenggong, which is a new 41 square mile city packed with everything except people:
Building it doesn't always mean they will come. In 2003, officials in Kunming, the capital of southern China's Yunnan province, decided they needed more space to expand. So they started work on the district of Chenggong, a roughly 41 square-mile plot of land 11 miles south of the city. Chenggong, which means to "submit tribute," features a Central Business District dotted with dozens of office towers, a massive government compound, and 15 university campuses. Ten-lane highways crisscross the city, rolling over previously tilled fields, while farmers living in surrounding areas face eviction. Perhaps the only thing Chenggong lacks, as I saw on a trip to the city in February, is people… Chenggong, in short, is a ghost city.
Below are some photos from Chenggong taken in February by Matthew Niederhauser, an American photojournalist and filmmaker based in Beijing. The full 30-slide show can be viewed here.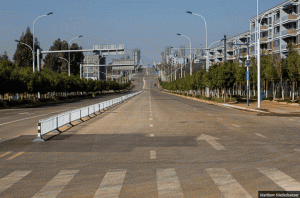 Whilst viewing the slide show, imagine the millions of tonnes of Australian iron ore used in the construction.