Thank you Ben Bernanke, down nearly 3% and into the 0.92's in the blink of an eye: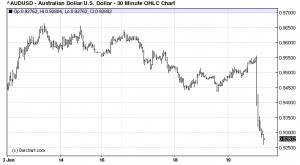 It's a wall of red on the crosses too: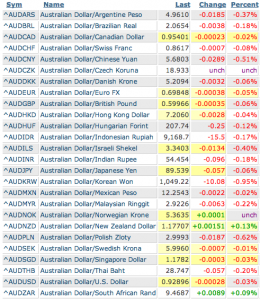 And let's recall yesterday's DFM dollar post:
As recently as April this year, the Aussie was trading at around 1.0550 before the recent fall took it to a low of 0.9433. That's a big fall of almost 11??%.

How low can it go? The NAB recently suggested the AUD could fall to 87 US cents by December 2014. But let's remember that for all the extreme recent calls about the crash in the Aussie and the impending doom facing it, the reality is that it is simply back at the bottom of what might be considered a wide 10-15 cent range it has been in since breaking up through 94 cents in mid-2010. In context, this sell-off is not all that shocking and the forecasters of doom forget this.

A fall below 94 cents would signal a different and lower scenario. Our assessment is that this is likely, especially if the economy weakens due to the withdrawal of mining investment, assuming consumption doesn't fill the gap. That may necessitate rate cuts to 2% or just below.

Despite the recent highs, the Aussie dollar's average remains steadfastly around 75 cents. It may not revert to the mean but after 22 years without a recession, you wouldn't want to bet on it.

So, what might happen if Australia did have a recession?

The answer was offered during the GFC low when global investors believed that was about to happen. Back then, it fell to 0.5960. There's your answer.
I'm very happy to concede that while this continues, rate cuts are back on the shelf.