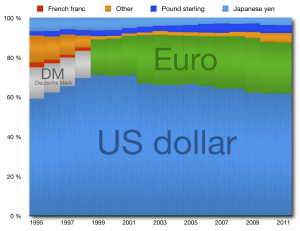 From The Australian this morning comes an important story about the Aussie:
THE dollar's coming of age as a global reserve currency has resulted in a $200 billion buying spree by central banks and sovereign wealth funds since the global financial crisis, adding an estimated US6c-US8c to the dollar's value, according to new analysis. And senior executives at US investment bank JP Morgan say the new structural allocations to cash and fixed-income assets, such as bonds, meant there was a natural flow of buying when the currency weakened in order to maintain portfolio weightings. This may mean the old adage that the Australian dollar climbs the stairs and goes down in an elevator may not hold as much weight as previously. "This has important implications for monetary policy," JP Morgan interest rate strategist Sally Auld said. "If the currency remains resilient despite a weakening in the external environment, then this places a greater burden on monetary policy to facilitate trend growth and inflation outcomes." …JP Morgan's head of fixed income for Australia and New Zealand Jeff Herbert-Smith said there were about 70 central banks and sovereign wealth funds participating in the local bond market.
If we accept this at face value the immediate impact is lower interest rates for longer. You can't run your economy on an uncompetitive exchange rate so to maintain a rate at which the economy can actually grow you will need to shift down your interest rate structure. That's pretty much what we've seen to date. Along with that, we should get on with building some new tools, like macro-prudential and/or money printing for foreign reserve banks.
I'm not sure we need to take this at face value, however. Portfolio flows are one thing  but not even a reserve manager with a constitution is going deliberately set about losing money. As the economy weakens, the flows will dry up. The dollar may get more support as it happens but it will still happen.
But we shouldn't altogether look this gift horse in the mouth. If the world wants to offer us currency at ludicrous rates then let's take some of it and build productivity boosting infrastructure to the extent that we can without blowing up our AAA rating, especially as we go over the mining investment cliff.