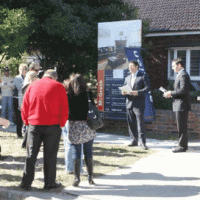 Sportsbet has today announced that it will allow Aussie punters the opportunity to gamble on auction clearance rates:
Property enthusiasts can vote on three categories, what they think clearance rates will be in the Sydney and Melbourne markets, and which capital city will have the best clearance rate.

At $1.75, Sydney is the hot favourite to win, followed by Melbourne at $2.20, Canberra at $7.00, Brisbane at $10.00, Adelaide at $11.00, Perth at $15.00 and Tasmania in last place at $21.00.

Novelty trading and marketing expert at Sportsbet Will Byrne told Real Estate Business the introduction of the auction clearance rates was due to the huge discussion around it.

"Now we're seeing more coverage about the auction clearance rates," he said. "The focus is around Melbourne, but Sydney had a record last weekend, making a topical debate amongst everyday life that we thought we might as well get involved in conversation," he said.

"It's good to give the public an opportunity to actually have their say, especially if they plan on partaking in an auction on the weekend. It makes it a little more exciting for them to see how it's going to turn out"…

Auctioneer with Cooley Auctions, Andrew Cooley said his concern with betting on clearance rates was the accuracy.

"The figures that are put out by organisations like RP Data and APM are not 100 per cent accurate. So, to establish an accurate clearance rate is nearly impossible because if a property is withdrawn or not sold, a lot of agents don't necessarily record that result, so the official clearance rate is never really known," he explained.
In order for there to be a fair and well-functioning betting market on auctions, transparent and accurate information on auction results and clearance rates is required, neither of which is available currently.
Australia's current auction reporting system could best be described as nothing more than a guide, with each of the private reporting agencies – the REIs, APM, RP Data, and Residex – often reporting differing results with a material number of auctions missed each week and auction results artificially inflated.
There's also a big question market over whether provisional auction results – i.e. those reported initially – would be used as the basis of measurement, or final clearance rates, which come out later in the week, capture more results, and are typically lower.