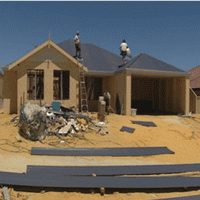 Today's strong housing finance data for March, released by the Australian Bureau of Statistics (ABS), contained some good news for the construction industry, with the number of finance commitments for new dwellings and construction increasing by a seasonally-adjusted 10.1% over the month and by 21.4% higher over the year, and is now tracking well above the 5-year moving average (5YMA):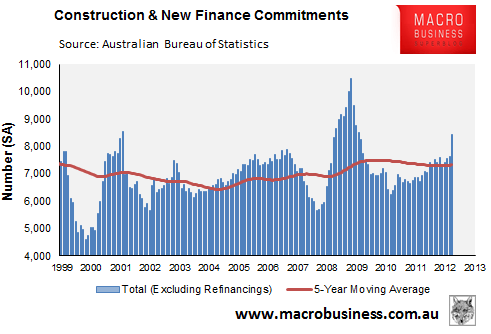 The recovery is equally obvious when the data is plotted on a rolling annual basis, which shows a clear acceleration of commitments over the past year (see next chart).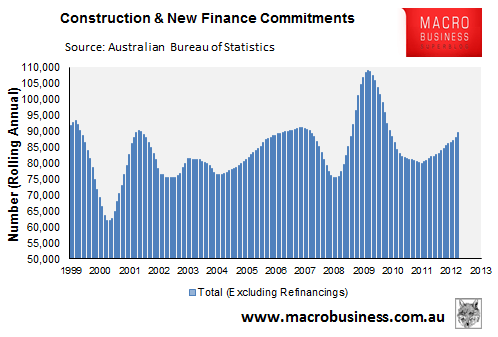 As shown in the next chart, the recovery in finance commitments for new dwellings and construction is being driven primarily by big gains in Western Australia. However, Victoria has also picked-up over the past year, whereas New South Wales has shown a significant uplift since first home buyer (FHB) incentives were changed in October 2012 favouring newly constructed dwellings over pre-existing dwellings. By contrast, similar changes to the FHB Grant appear to have had minimal impact on new home finance in Queensland, which has flatlined over the past six months. Note, rolling annual figures have been used as the state-based data is not seasonally-adjusted, therefore, monthly comparisons are affected heavily by seasonality, which makes comparisons problematic.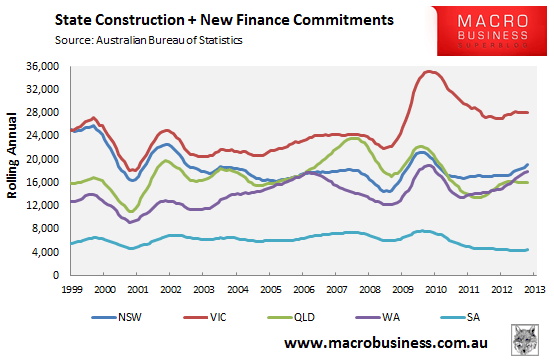 Overall, the ABS data confirms that the housing construction industry is experiencing an ongoing recovery in finance. But these figures remain out of step with far more new home sales and building approvals.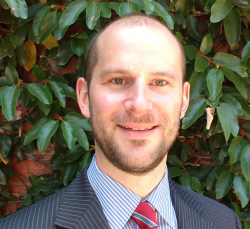 Latest posts by Leith van Onselen
(see all)