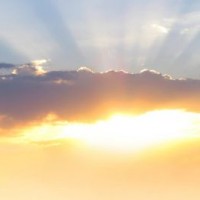 Markets continued to gyrate again last night as the conflicting signals of the economy and fed policy combined with market positioning and trader confusion about what is really going on.
Whether it is Reuters or Bloomberg or Marketwatch or whoever else reporting the overnight action it all seems to be about the US GDP data that drove stocks up and the dollar down but I take this as a sign of growing instability if this is really true. The reason for this is that if the situation is really getting so complex and wound up that a 0.1% change in the US GDP number for Q1 from the first read of +2.5% to +2.4% last night got things moving then we have some troubled waters ahead. To put this in context the US annualises its GDP data as opposed to year on years it the way we do it in Australia so the that 0.1% represents an actual growth differential of just 0.025% for the quarter which is just a rounding error in reality.
So if the market is really reacting to a 0.025% change in the rate of growth in the world's biggest economy over one quarter then heaven help us – when the Fed does actually "taper" it is going to lead to something very similar to the 1994 bond rout which was no fun as those of us who were running interest rate funds back then remember.
The really interesting thing and why I think the instability and increase in volatility I have focussed on for the past couple of weeks is coming is because the markets grabbed onto this piece of data but ignored the personal consumption part of the GDP report which was revised up in favour of jobless claims which jumped 10,000 last week
But that is the market and stocks were higher and the US dollar weaker as a result.
At the close the Dow was up 0.15% at 15,325 but this belies the volatility which included an opening low of 15,281 and the high of the 15,399 before it drifted into the close. The S&P had a similar type of day trading from 1,649 up to 1,662 before closing up 6 points or 0.34% at 1,654. The Nasdaq was 0.68% higher.
In Europe stocks closed when the US was near its peak so they showed more solid gains with the FTSE 100 up 0.45%, the DAX up 0.76%, the CAC up 0.55% and stocks in Milan up 0.66%. Spanish stocks were slightly in reverse falling 0.09%. Confidence data in the EU was slightly less negative than forecast for consumers coming in at -21.9 versus 22.3 last while industrial confidence was also less negative coming in at -13 from -13.8 last. The Business Climate was also more buoyant (yes I'm being Ironic) at -0.76 from -1.04 last.
So the euro rallied above 1.30 on this huge revision to US GDP, the shocking jump in jobless claims and the recovery in confidence in conditions in Europe. Now it is clear I am being sarcastic here but I want to make the point strongly here because the last night's price action gives me a great pulpit from which to talk.
That point is this is about price action and positioning as was clear in the Aussie's price action yesterday. The market was structurally short, otherwise it should have gone down on the terrible capex data. Equally clear is that after a solid run US dollar bulls are a bit exhausted or worried that the looming test of 99.90 in USDJPY is going to crack the dollar wide open for a bit.
Either way it is just the market seeking the path of least resistance and no volume of Journalistic ex-poste rationalisation of what the drivers were is going to change the simple fact that the US dollar has found sellers against the AUD, EUR, GBP, Yen and so on.
What is important, not in the immediate time frame but something to file under "don't forget", was something that French President Hollande said in Germany when meeting with German Chancellor Merkel. Hollande pledged that he would carry out the labour market reforms and pension system overhaul but would do it in his time and under his rules in a clear thumb to Brussels and Berlin. Hollande said something that is going to bereplicated through the EU and something that means the recovery will take a long time and rates in the EU will head lower:
The details, procedures and way of going about this are the responsibility of the government and the state, otherwise there would be no national sovereignty…

There must be sovereignty over the implementation. The Commission makes recommendations, it does not say in place of the member states what they must do.
Euro is eventually going to 1.20 and under.
Turning specifically to some FX price action and we can see in the chart below that the move higher is still not inconsistent with a head and shoulders pattern which has formed or is forming over the past 9 months. But short term resistance looms around 1.3080 which is the downtrend line from earlier this year. So watch that level.
On the Aussie dollar things are getting really interesting. The price action yesterday was as volatile as it can get within a range on a day. The Aussie opened in a narrow range in the 0.9620/40 region traded down to 0.9582 after the capex data but roared higher on building approvals to eventually trade 0.9698 before pulling back and then getting hit all the way back to 0.9582 before it rallied another big figure back to 0.9691 and it sits at 0.9657 as I write this morning.
What a day! I was short into the capex figure. Later I got short again on the basis of the hourly charts and got taken out again on the run down to 0.9582 again so I harvested about 80 or 90 points.
But gee wizz what a market. This volatility is no good for anyone.
Looking a bit longer at the daily chart above it looks like the rally to 0.9780 is going to occur. We now know there is solid buying below 96 cents and solid selling below 97. Either end breaks and the Aussie will run but based on my usual style the topside is favoured.
USDJPY is also on my radar. I have been looking for a test of 99.90 and it is slowly grinding its way toward that level as you can see in the chart below. Yesterday the Nikkei got smashed 5% lower and while there was a recovery in night time futures it remains under pressure as does USDJPY. If 99.90 breaks then both the USDJPY and Nikkei are in for further weakness.
On commodity markets the US dollar weakness drove gold higher rising 1.45% to $1415 oz, Nymex crude was up 0.52% and Dr Copper was 0.56% higher. Clearly a US dollar move but doesn't this strength tell you that the ex-poste rationalization about why stocks and currency markets moved (weak US data) is rubbish. Otherwise these commodities would be lower. It's the path of least resistance folks – that's what we are always looking for.
DATA
Australian Private Sector credit is out and I'll be looking at this as an indicator of what consumers are doing and where the economy, at least domestically, is headed.
MNI Business Indicator in China is out and then retail sales in Germany before a raft of CPI in Europe, GDP in Canada and personal consumption data in the US and the biggy for the night is the Chicago PMI.
Twitter: Greg McKenna
Latest posts by Deus Forex Machina
(see all)