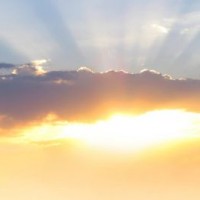 Words are important aren't they? In everyday life and in markets words can help or they can harm, they build up or they can drag down. Last night a few words from ECB boss Mario Draghi were enough to knock the euro from its perch above 1.32 after the ECB rate cut and see it under pressure once again.
The words that Draghi used were that the ECB stands ready for negative rates if they are necessary and while they shook the foundations of the euro rally they strangely had little impact on stock prices in Europe or the US given they convey an outlook of weak and weakening economic growth that the ECB boss deems plausible enough to speak about in public.
This is a big deal for me because I think this is exactly the economic future that Europe in particular and many parts of the world face. It is the economic future that I think ultimately might undo even the most active of central bank monetary operations and it is the global future that I think ultimately impacts on the Australian economy.
But for now only the euro listened – which is cool because as I've shown this week trading on rhetoric can be fraught with danger.
So I have no other option to respect that fact that US stocks bounced back strongly from the previous day's weakness on the back of a 5 year low in jobless claims. This is truly encouraging and I hope it signals something sustainable for the US labour market but all the other data we have seen from around the world since the middle of March runs counter to this piece of data as increasing expectations for growth have proved too optimistic.
Today is non-farm payrolls day where we see the release of the single most important data release of each month and it is important to note that the next day's price action is a dangerous time to be trading if you are a discretionary trader with a non-systematic process because  as the single most important data release for markets each month the lead up to and aftermath of the release can be volatile. So it is worth noting that we have no idea where non-farm payrolls are going to print tonight. The market's guess of 145,000 is as good a forecast as any. But based on the recent data flow the risks seem to be toward the downside and an undershoot, at least from a private sector point of view and with the current US Government's own austerity numbers biting it is difficult to envisage government hiring picking up. But I don't punt labour force numbers. They are just too volatile.
Looking at overnight action, like Rocky Balboa stocks in the US just keep bouncing back from any type of slight or looming defeat so the the fall in jobless claims in US overnight to 324,000, a 5 year low, was enough to embolden the Equity market bulls once more and drive the S&P 500back to its recent closing high at 1598 for a rise of 15 points or 0.97%. The NASDAQ was 1.27% higher and the Dow rallied 0.89%.
In Europe the FTSE, DAX and CAC managed to stay in the black rising 0.15%, 0.61% and 0.06% even though the PMI's for the two big continental economies still signal contraction. Milan and Madrid stocks however fell slightly falling 0.12% and 0.15% respectively.
The ECB rate cut from 0.75% to 0.50% and sent euro up through the top of its recent trading box to a high of 1.3215 but Draghi's comment that the ECB is ready for negative rates drove it back to 1.3060 this morning. Does that make sense? Hard to fathom how virtually no interest on your euro deposits drives euro higher but only slightly less even if negative rates drive it lower. Rationally the difference of half a percent is hardly material but that is the world we are in bad news is good news but too much bad news is bad news. I'm back in topsy turvy land again.
The price action is writ large in the big down candle in yesterday's 24 hours of trade. You can add a little uptrend line on the chart above which would suggest a break of 1.3030 today will push euro lower. Realistically though we'd probably have the day off and wait to see the release of non-farm payrolls tonight and then go with that move either way.
Likewise in the AUD we remain short at the moment but not that once again the 1.0220 region was solid with the Aussie's low at 1.0219 exactly the same level as last week reinforcing this 1.0200/20 zone as support for now.
1.0220 remains the key level and a weekly close below here will open the way for a deeper move maybe as low as 0.97 based on the technicals. I note however that AUDCAD recovered off the lows of yesterday as well so it is clear that the better equity price action is good for the Aussie and helping it hold in. Accordingly the non-farm payrolls is also going to be very important for the Aussie's weekly close.
Short term 1.0280 is resistance and 1.0220 is support:
USDJPY rallied back a little also over the past 24 hours and this 97 region is certainly building as a strong support level for the US dollar. We have seen USDJPY trade briefly below here over the past few days and we saw a survey of Japanese institutions yesterday which suggested a majority of institutions still think USDJPY is headed above 100, perhaps they are on the bid. We will respect 97 as support for now but if it breaks on a closing basis a deeper move is in the offing.
Turning to the commodity markets  and we saw a remarkable turn around in energy markets from recent weakness with Nymex crude up 3.34% to $94.07. Gold rallied $1.48% or $21.40 to $1467 with silver up 2.08%. In the Ags, corn rose 2.38%, wheat rose 1.16% and soybeans 0.59%.
Data 
AIG Performance of Service index in Australia along with the PPI. In the UK Markit releases their Services PMI and the EC releases its economic forecast for the Eurozone.
In the US its non-farms and ISM non-manufacturing.
Twitter: Greg McKenna
Disclaimer: The content on this blog should not be taken as investment advice. All site content, including advertisements, shall not be construed as a recommendation, no matter how much it seems to make sense, to buy or sell any security or financial instrument, or to participate in any particular trading or investment strategy. Any action that you take as a result of information, analysis, or advertisement on this site is ultimately your responsibility and you should consult your investment or financial adviser before making any investments.
Latest posts by Deus Forex Machina
(see all)