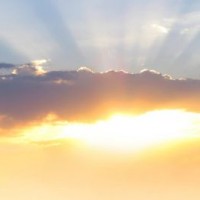 Data everywhere and not a drop of growth.
Stocks kept keeping on overnight with both the Dow and the S&P touching new all times highs in trade before pulling back a little while stocks in Europe rallied even though we saw some very poor GDP data for the Eurozone.
Germany managed to print a moribund 0.1% growth rate in Q1 against the 0.3% expected. But at least Germany grew France slipped back into technical recession with a fall in GDP of 0.2%. I say technical because this is an economist or media definition of recession and we'd argue that if you ask the unemployed, the underemployed and shop and business owners in France they didn't need an economist to tell them they are in recession. Main Street knows what Wall Street needs confirmation of.
Elsewhere in the Eurozone, Finland, Cyprus, Italy, The Netherlands, Portugal and Greece all also saw growth fall and we already know that Spain is in real strife from last month's release.
But you can't keep a good bull market down and stocks in Europe continued to rise with the FTSE up 0.12%, the DAX up 0.27%, the CAC in Paris up 0.40% (go figure) while stocks in Milan and Madrid rose 1.03% and 1.28% respectively. Clearly stock traders are voting that QE is coming to Europe and clearly their views are shared by FX traders with the euro under pressure.
Before we move onto FX markets it is worth noting that stocks in the US also ignored some poor data with the print on the NY Empire Manufacturing Index of -1.43 very different and much weaker than the 4 that was expected of the 3.05 last month. But that didn't stop stocks traders with the Dow finishing up 0.40%, the S&P up 0.52% and the Nasdaq up 0.27%.
Turning to FX markets it was another night of US dollar strength against the euro with the single currency falling on the back of the weak growth to a low of 1.2842 a full 100 points below the high of the past 24 hours.
As we noted yesterday a break of 1.2872 opens up a return to the 1.2475 with 1.2741 the next stop.
Elsewhere GBP managed to reverse recent weakness as the outgoing BoE boss Mervyn King said that he could see a British recovery on the horizon and as the BoE revised away the recent economic weakness. As Gemma Godfrey said on Linkedin this morning – just how strong are his glasses? Perhaps he is using the special central banker rose coloured binoculars.
Turning to the Aussie it made a low last night of 0.9852 which is just below our 0.9857 target we have had for a while now. The big question of course is whether or not this is the level from which the Aussie can launch a rebound. It makes sense that it is although it is worth noting that oversold can stay oversold for a long time and the yen's rally from below 80 to the current level of 102.34 is a case in point.
So anyone trying to catch a falling knife has been warned.
Having said the above it might be time for a reversal of fortune in the Aussie back toward 0.9930 in the first instance and then 1.0005 if that gives way. I have squared up all positions now and am awaiting a fresh catalyst. Equally I'm on the road and out of touch which is always a dangerous time to be trading.
In Japan today is a big day with GDP data to be released for Q1. The market is expecting a big pick up in growth to 0.7% qoq from last quarters 0.0% outcome. Year on Year growth is expected to rise to from the 0.2% last. No doubt if theses data print along these lines and if the structure is as the market is looking for then given the extended current nature of the USDJPY rally and the move into the super convergence of resistance overnight with the high of 102.76. before pulling back to 102.35 where it sits at the moment.
Gold continued its fall as expected breaking down through $1417 which was the level we highlighted to make a low of $1389 just shy of the $1385 we identified yesterday as the target if our level gave way. While markets are focused on this equity rally and the Fed's goosing of stocks and ignoring the reality that is weak global growth gold's place in investors portfolio's is reduced and so the pressure on it remains. Equally though the US dollar's hegemony in currency markets is returning and the European data last night just reinforces US dollar buying which is a natural downward pressure on gold and other USD denominated commodities and currencies.
As you can see in the chart above gold looks like it is going to return to the recent lows. The rally failed in exactly the zone we suggested it would and the JimmyR trend indicator remains in a down trend and crucially, from the way we trade it, while gold managed to push back up through the fast moving average it could never break the slow moving average and thus we retain a bearish bias.
Elsewhere in commodity markets Dr Copper fell another 0.61%, crude had a huge reversal off early weakness closing at $94.23 Bbl after the EIA released the latest stock data which fell 624,000 Bbls against expectations of a rise of half a million. Wheat fell 2.43% possibly on news that buying in the next year is going to be significantly lower than the market had previously expected from India. Soy beans hardly moved and Corn was 0.31%.
Data
Following on from the data on growth overnight we see Japanese GDP this morning along with Chinese FDI and then Japanese IP before Eurozone and US CPI before jobless claims, housing starts, building permits and Philly Fed in the US.
Twitter: Greg McKenna
Latest posts by Deus Forex Machina
(see all)