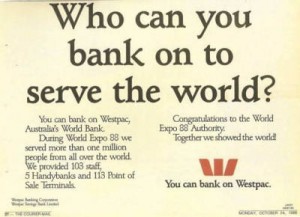 There was more creepy coverage of banks at the AFR over the weekend.
First was Matthew Stevens:
The global financial crisis and the frightening structural risks and uncertainties it triggered appear to be over at last.

Only three days after ANZ Banking Group lifted its dividend ratio, Westpac added shareholder-sating sparkle to its own increased interim payout with a 10¢ a share, fully franked special dividend. The initiatives of both banks suggest that, for the first time in half a decade, the sector's capital management strategy has slipped from the routinely defensive setting that has been maintained since 2007.

Needless to say, Westpac boss Gail Kelly doesn't quite see it my way.

Yes, Kelly acknowledges that Westpac particularly and the banking system generally have reached a point where capital accumulation is no longer the primary quest it became in the face of GFC and the coincident uncertainties that were fuelled by global banking's embrace of the Basel III protocols.
I'll note in passing that if the GFC is over, why do free government guarantees exist for deposits, for wholesale borrowing (implicitly), virtually free for liquidity via the RBA, keeping competition close to zero?
Second was Andrew Cornell's breathless praise:
Westpac's result provides firm evidence that there is no fundamental issue with bank earnings quality: the productivity story was good, the bad debt story was good, the capital generation story was good, the yield story was good. There was no evidence of a looming collapse in any of these components – which of course doesn't tell us when the market might decide that, relative to other assets, bank shares might be overvalued.

That's where the debate lies. As Citi said in a refutation of the bubble theory: "We believe that Australian bank dividend yields will continue to attract investors while alternative investments provide significantly lower returns and the earnings and dividend outlook for the sector remains solid near term. All we can say is, buy ANZ, CBA and WBC today!"
Better was available from Tony Boyd, Chanticleer, on the back page, who at least posed a question:
Westpac takes the view that lending to households and businesses will pick up substantially over the next 18 months to two years. It is forecasting credit growth to business will rise from 2.7 per cent in 2012 to 4.5 per cent by the end of 2014. It thinks housing credit will grow from 4.5 per cent at the end of 2012 to 6.3 per cent by 2014.

It holds these views even though it thinks unemployment in Australia will tick up from 5.3 per cent at the end of last year to 5.8 per cent by the end of next year.

…Macquarie reckons companies will ultimately return to the equity capital markets and do all the things they did before the global financial crisis.

But what if they are both wrong? What if the cyclical lows in credit growth and capital markets activities are a new normal? That is distinctly possible, according to analysis of global banking revenues by McKinsey & Co. After climbing for 30 years, the share of economic activity attributable to bank revenues fell after the global financial crisis to 5 per cent of global gross domestic product. McKinsey says it will remain at that level until 2020 – which is about the same as nominal GDP growth and following the pattern of other industries.
Getting there, Tony, but no cigar.
The question that needs to be asked is this: the last time Westpac issued a special dividend was in 1988, at the cyclical peak and before it was on its knees asking Kerry Packer for an equity injection. As we enter an historic terms of trade correction and go over the mining investment cliff, is now an appropriate time to be depleting capital at the bank? At all of the banks?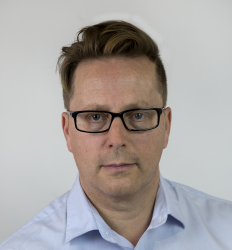 Latest posts by David Llewellyn-Smith
(see all)