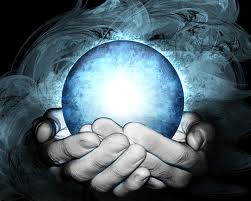 From Bloomie comes this compilation chart of current interest rate forecasts: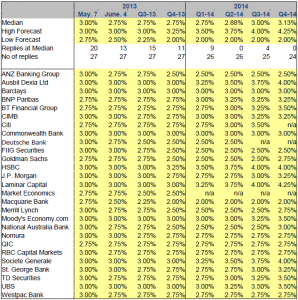 As you can see, the most hawkish prognosticator is Laminar Capital, a fixed income specialist, so one hopes they're hedging. Next is a small group of hawks including Ausbil Dexia, the boutique fund manager, our own Paul Bloxham of HSBC and Societe Generale who are clearly not reading enough Albert Edwards.
At the other end of the spectrum is Macquarie Bank, which has been more right than wrong in recent years, forecasting 2% by year end and staying there. Given the need to fund the current account deficit, 2% is the equivalent of zero interest rates for Australia so that gives you some idea of what Macquarie sees ahead. It might explain as well its recent push into mortgages.
It is interesting to note that the major banks, who will be funding any rebound in non-mining growth and hence have a box seat on any potential growth and inflation issues, all see rates at current levels or below as far out as the end of next year. That's hardly a vote of confidence in their own capacity to lift the post-mining boom economy. The majority seem to agree.
My own view is the same as Macquarie Bank, though I would push two rate cuts into next year. I remain skeptical of a sustained property surge unless fiscal incentives are altered for first home buyers. Even then I don't know how the needed credit expansion will be funded.
The great unknown for interest rates is the dollar and in what circumstances it ultimately falls, whether that's inflationary, and what the RBA will do about it.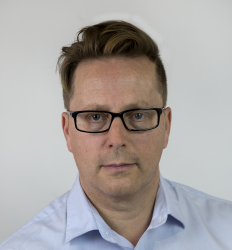 Latest posts by Houses and Holes
(see all)