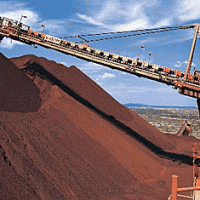 The Australian Bureau of Statistics (ABS) has just released trade data for the month of February, with Australia's trade deficit decreasing to a seasonally-adjusted $178 million, from $1,215 million in January (revised upwards from $1,057 million). Analysts had expected the deficit to narrow to $1 billion.
It was the 14th consecutive month that Australia has recorded a monthly trade deficit (see below chart).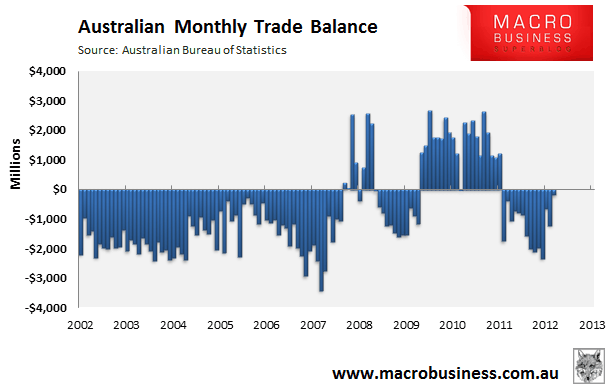 In seasonally adjusted terms, exports rose $811m (3%) to $25,642m. The increase in exports was assisted by a $226m (1%) fall in imports to $25,820m.
Australia's two major export commodities – iron ore (25% share) and coal (15% share) – fell by -$30 million and -$283 million respectively. Gas exports (6% share) also fell (-$63 million), as did Australia's third biggest export – gold (7% share), which fell by -$55 million over the month (see below chart).
Exports to China were flat over the month, with its share of total exports falling slightly to 33%. Exports to the three other major markets – Japan (+$53 million), Korea (-$93 million) and India (+$80 million) – also showed only moderate movement (see below chart).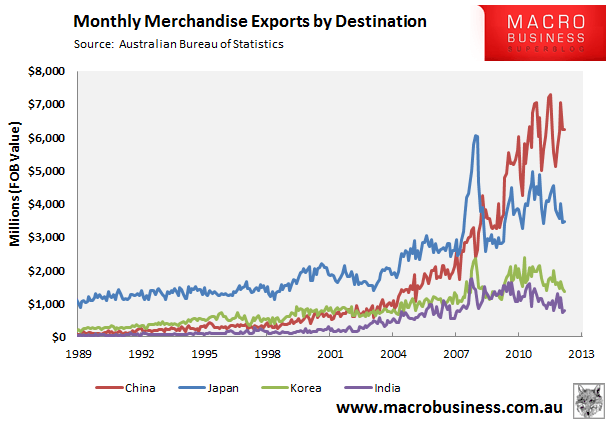 Western Australia continues to dominate the nation's exports. It alone accounted for 48% of Australia's merchandise exports in February, despite exports falling by -3% over the month. By comparison, exports from Queensland rebounded by 6%, after crashing last month (see below chart).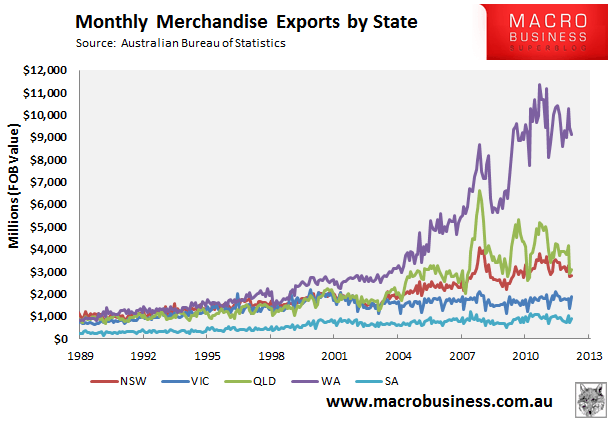 Western Australia also continues to be the only state with a meaningful trade surplus: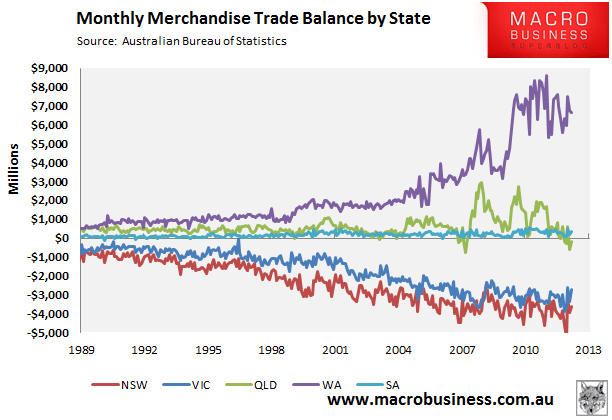 Finally, Australia's services trade balance improved marginally in February (+$23 million), and has essentially stabilised over the past six months after a horror run since late-2008 on account of the high Australian dollar (see below charts).