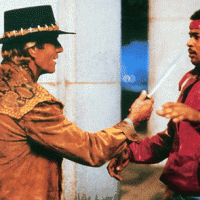 On Friday night, I caught up with two old mates in the Melbourne CBD. Working from home these days, and having two young kids, I don't venture into the city much anymore, let alone go to bars or dinner. So Friday's activities were a rare event.
After blowing $30 each on a very basic Chinese meal including one beer, we attended a run-of-the mill bar in the centre of town, where we each bought a round of beers. On my turn, I was shocked to find that three stubbies of Heinekan set me back $30. After forking-out $10 a beer, I didn't feel much like drinking anymore; and besides, I was knackered after a long week of writing at MB. So just after 10pm, we called it quits and I caught a cab to my home in Melbourne's Eastern Suburbs.
My tally for this quiet night out was as follows:
train ride to city ~$4;
basic Chinese meal with one beer $30;
three beers $30;
cab ride home $28.
So, all up, just over $90 for a couple hours catching-up with some old mates, including a basic dinner, four beers, and transport. No drunkenness. No extravagance.
To say that Australia is an expensive place to live is an understatement. We already know housing costs in this country are a disgrace. And we each see it every time we venture out, whether it be paying $18 for a movie ticket, $8 to $10 for an over-priced drink in town, or a meal at a restaurant. Now there is proof.
Earlier this month, Deutsche Bank released its annual "Mapping the world prices" report, which is a simple survey of prices and price indices of a wide array of goods and services from around the world, with data gleaned directly from prices posted on the internet or from sources that have collated data. This year's survey found that "Australia and Japan are very expensive across a wide range of products while the United States is generally the cheapest developed country". And according to the report's author, Deutsche Bank global strategist Sanjeev Sanyal, "in Australia's case it is massively more expensive on most goods and services".
It should be noted that while Australia ranks poorly on most goods and services, it does score one win with the cost of basic health insurance coverage is just over 0ne-third of the cost in the US; albeit it is still higher than every other country in the sample (see next chart).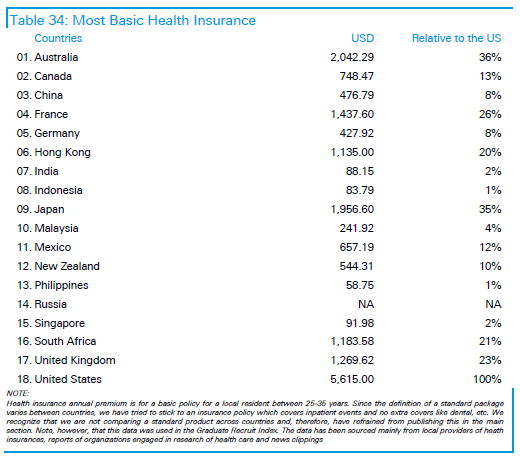 Full report below.
Deutsche Bank Random Walk Mapping Prices 2013
Leith van Onselen is Chief Economist at the MB Fund and MB Super. Leith has previously worked at the Australian Treasury, Victorian Treasury and Goldman Sachs.
Latest posts by Unconventional Economist (see all)