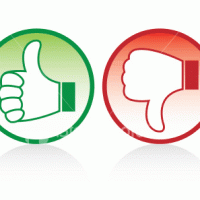 Today, the Age has run an article on the big fall in wholesale funding costs currently being experienced by Australia's banks:
Australian bank funding costs have fallen to the lowest level since the global financial crisis, raising pressure on lenders to pass on any future interest cuts in full…

During the week ANZ sold $1.75 billion worth of five-year bonds at 85 basis points over benchmark swap and bank bill rates. During recent years, banks have paid well over 150 basis points to secure the long-term funding.

The ANZ issue marked "the record for the cheapest five-year issue by a major bank since the GFC", said Philip Bayley, an ADCM Services credit market analyst…

Further relief for bank profit margins is expected to come as the three and five-year funding locked in during the depths of the global financial crisis is starting to roll off…

Even so, banks argue that the main pressure is not global money markets, but rather competition for deposits among lenders. This is expected to intensify as more spare funds are ploughed into shares…

The Reserve Bank recently played down the significance of a sharp drop in wholesale funding costs for lending rates, saying competition for deposits remained the key influence on banks' costs.
While wholesale funding costs may have fallen, it would indeed appear premature for the Age to claim that overall bank funding costs have fallen to their lowest level since the GFC, with deposit funding costs remaining elevated, as argued by both the banks and the RBA. This cost escalation is illustrated by the below chart, which shows the spread between the various deposit maturities and the official cash rate on a 3-month moving average (3MMA) basis: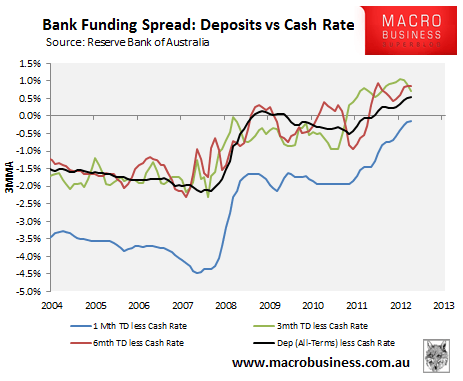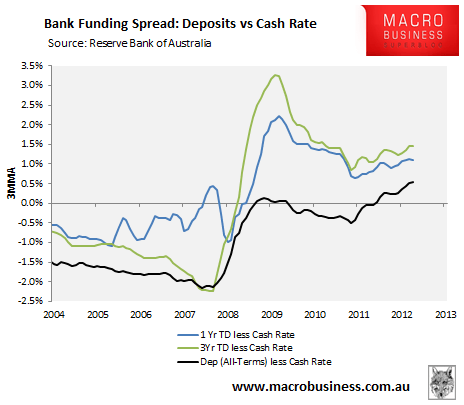 According to the RBA, overall deposit costs (shown above by the black lines) have risen relative to the official cash rate since late-2011, hitting an all-time average high of 0.53% above the cash rate in the three months to March 2013.
The situation is similar when deposit costs are compared against discount variable mortgage rates. According to the RBA, the spread between the discount variable mortgage rate and the average deposit rate has been falling since late-2011, suggesting that the banks' deposit funding costs have risen: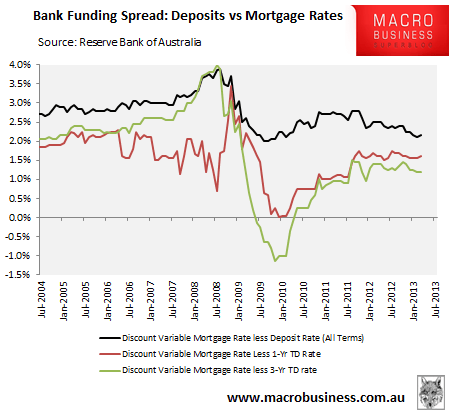 So overall, there is some good and bad news on bank funding costs, and the overall position remains unclear.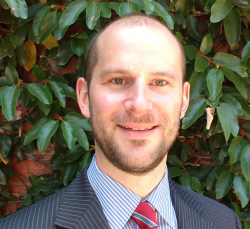 Latest posts by Leith van Onselen
(see all)