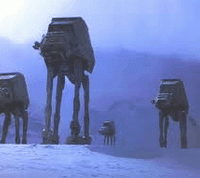 The Canadian housing market staged a recovery overnight, with the Teranet repeat sales index registering a 0.4% increase nationally over March, breaking a run of six straight months of falls (see next chart).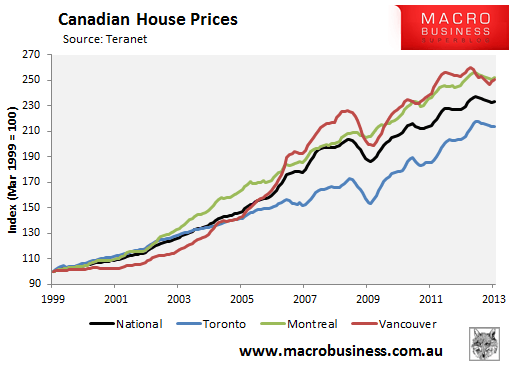 Canadian house prices have now fallen by -1.4% since values peaked in August 2012, but remain 25% above their April 2009 low.
The correction has been sharpest in Canada's third biggest city and bubbliest (and most supply-restricted) market – Vancouver – where prices have fallen by -3.7% since values peaked in June 2012; although they have managed to increase by 1.5% over both February and March. By contrast, Canada's two largest cities – Toronto and Montreal – have experienced milder corrections, with values falling by -1.7% and -1.4% respectively since peak, following rises of 0.2% and 0.7% falls in March.
In real (inflation-adjusted) terms, Canadian house prices have fallen by -2.2% since peak, with Vancouver down -4.5%, followed by Toronto (-2.3%), and Montreal (-2.2%):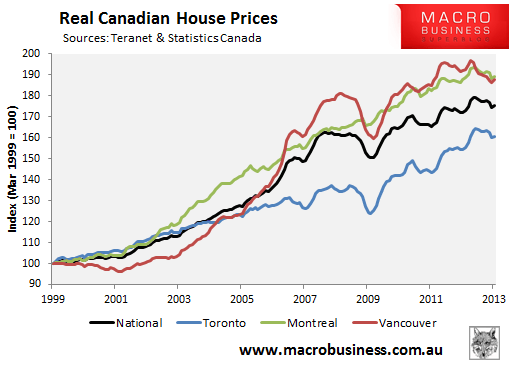 Elsewhere overnight, the Bank of Canada (BoC) cut its GDP forecasts for the Canadian economy and welcomed the cooling housing market conditions, whereas forecasts for interest rate hikes were pushed-out to 2015. From the AFR:
[BoC] cut its 2013 growth outlook to 1.5 per cent – the same as an International Monetary Fund forecast – from the 2.0 per cent it saw in January…

Nonetheless, the central bank said it still expects interest rates to rise, repeating that after a period of time "some modest withdrawal" of monetary stimulus would likely be required…

"There is slack in the economy. We call it material slack, but it's not that big, and it's certainly not that big relative to other major economies," [Governor] Carney told a news conference…

The bank has been worried about the recent housing-market boom in Canada and about a surge in household debt, which critics say has been fuelled by its ultra-easy monetary policy.

The housing boom slowed after the federal government tightened mortgage rules last year. But many think the central bank is reluctant to drop its tightening bias because it might help reignite the property sector.

Carney praised the "constructive evolution of the housing market", and said it will influence interest rates.

"We're encouraged by what we're seeing. That reality provides a longer horizon, a period of time before an adjustment would need to be made," he said.

Still, the central bank warned there were still some signs of overbuilding, particularly of multiple-unit dwellings in some cities, and that valuations in some segments were stretched.

…it will take longer for the economy to hit full capacity, and for total and core inflation to rise to the bank's 2 per cent target. It now sees this happening by mid-2015, whereas in January it had predicted the second half of 2014.

"It likely pushes (an interest rate hike) out even further. It's likely we won't have higher rates in Canada until well into 2015," said Bank of Nova Scotia chief currency strategist Camilla Sutton.