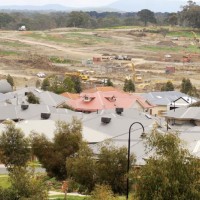 Following on from today's post on dwelling completions, I want to take readers through some long-term charts that provide insight into how Australia's home building industry is travelling at present, and whether the RBA's goal of dwelling construction filling the void left as the mining boom unwinds is likely to be met.
The first chart plots the rolling annual number of dwelling completions for both houses and apartments against the 30-year average: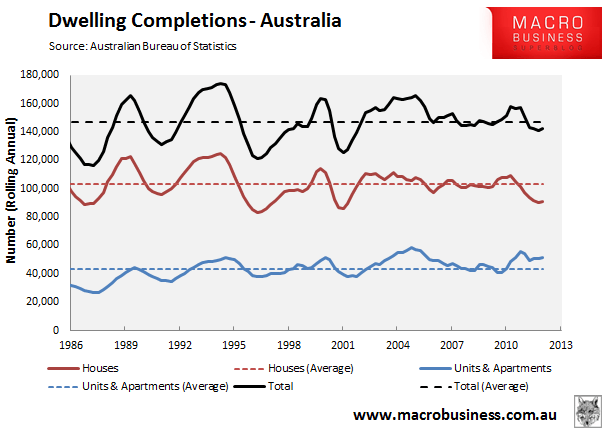 According to the ABS, the total number of completions in the year to December 2012 were -3% below the long-run average. Importantly, the employment-sensitive detached house segment was -12% below average, partly offset by unit & apartment construction, which was running 19% above the long-run average.
The story is better for dwelling approvals, however, which have shown a modest recovery in the year to February 2013, suggesting that dwelling construction could soon pick-up (see next chart). That said, total approvals continue to track nearly -2% below the 30-year average, with the employment-sensitive detached house segment remaining highly depressed (-17% below the long-run average), whereas unit & apartment segment is booming (34% above average levels):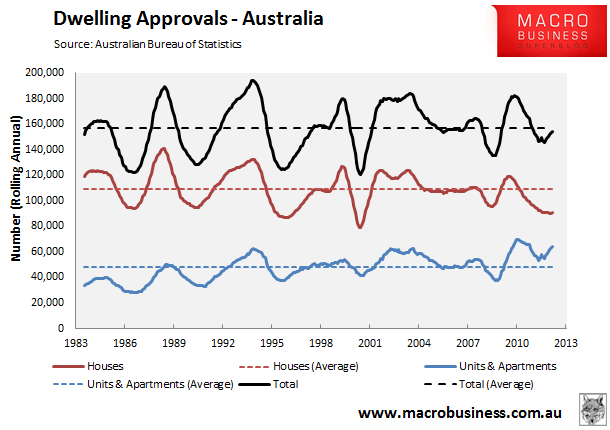 One of the more disappointing aspects of Australian dwelling construction is that it has failed to respond to the recent surge in population. As shown below, population growth accelerated from late-2004, whereas dwelling construction – as measured by approvals, commencements, and completions – failed to lift (see next chart).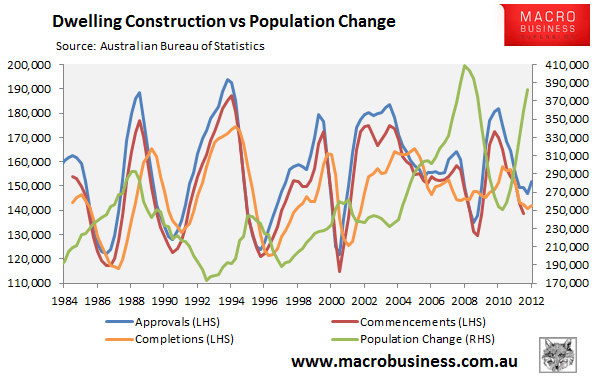 The failure of the construction industry to respond in any meaningful way to the long boom in house prices post-1996, or the more recent surge in population growth, suggests that housing supply has become increasingly unresponsive to demand. Such unresponsiveness also makes it more difficult for the RBA and policy makers to engineer a pick-up in construction, via interest rate cuts and demand-side stimulus, to offset weakness as the mining-led investment boom winds down.
Ultimately, the only sustainable way of getting construction moving is via supply-side reform and improved affordability through lower land prices.