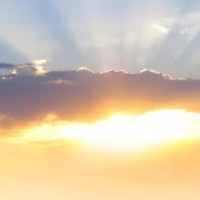 Welcome to March, a month where it looks like the US dollar is going to continue to strengthen, gold to fall for the 6th month in a row, the euro to remain under pressure and stocks to decide if they have the internal strength to push that half a percent or so back up to all time highs.
Gold has already fallen for 5 months in a row, something it hasn't done for more than a decade if my charts are correct. I don't dislike gold, for me its just another market in the roughly 90 I watch that offers the potential for capital gain from trading both sides of the fence. Buying AND selling.
So I must say that the reversal off the high of just two days ago has been pretty strong and brutal and technically with gold breaking back down through the trend channel it is pointing  lower again. As readers know I have been bearish for many months and remain so structurally.
I have to be honest, I thought that gold would rally a bit further this week but the reversal and a weak monthly close – remembering it was the long term monthly charts that got me selling in the first place – leads me to conclude that gold's fall is only just beginning in a longer term sense.
But the big question is whether the gold move is really just a big old US dollar move which it just might be. Sure the fear factor seems to be washing out. Sure the idea of QEinfinity has been washed out a little too. But isn't it just the US dollar that is driving this move?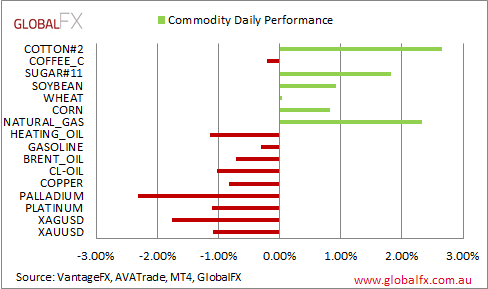 So on that front it is important to note that in the chart above of globally traded commodities all fell in US dollar terms.
Looking at other overnight events, the German unemployment rate held steady at 6.9% with a fall of just 3,000 in the unemployed but markets seem to have been happy that it wasn't a bad result and as such it helped support European equities. In the US the GDP print  of 0.1% for Q4 was weaker than the 0.5% expected but in the grand scheme of things the difference between 0.1% and 0.5% annualised is a rounding error on the quarter and the market has decided to focus on the 0.9% growth in core personal consumption expenditures.
The Chicago PMI bounced from 55.6 to 56.8 for a much better result than the 54.3 the market had been expected while jobless claims fell to 344,000 from 366,000 and the 360,000 expected. Falls in jobless claims have been a good indicator for the US equity market over the course of the GFC which to a certain extent belies the fear about the withdrawal of the Fed's stimulus policy in a longer term and structural sense but the market is the market and when the stimulus does start to be withdrawn, even if it is largely because the labour market has improved and likely jobless claims are lower but that is a debate for another day.
Looking at the performance of stocks it was an amazing last hour where all the gains have been given back and the US market which had been higher for most of the day closed in the red. Clearly, or perhaps I'm just guessing, an end of month thing but nevertheless the Dow closed down 0.14%, the Nasdaq was 0.07% lower and the S&P 500 lost 1 point to 1515 for a fall of 0.07% also. From the charts this still looks like a topping pattern for the S&P 500 which doesn't mean a crash or anything catastrophic necessarily but it remains a warning to investors to protect capital.
In Europe it was happy times all over the place. Spanish stocks rose 1.15%, the CAC was up 0.85% with the DAX up a similar amount while the FTSE and FTSE MIB were up 0.56% and 0.59% respectively.
Turning to FX markets the US dollar strengthened across the board as you can see in the chart below: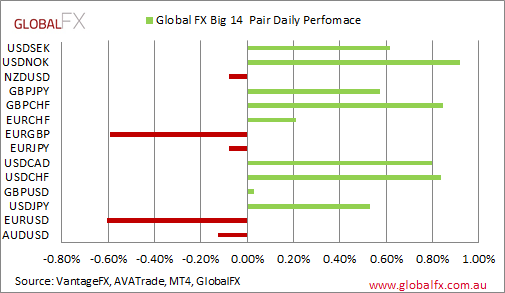 Looking specifically at the Aussie it is under pressure and the price action yesterday certainly was ugly. Yesterday's wild ride started with the stop run early in the morning taking it swiftly from 1.0200 up to 1.0245 and then back again before surging under the weight of a short market once again and aided and abetted by the Cap Ex data which prompted the CBA to put on a note to clients yesterday afternoon that the mining boom is not dead.
If you recall yesterday I said Aussie would squeeze higher, which it did but only after falling half a cent first. Then as the market was clearly short it squeezed up to 1.0289/90 high before falling back under the weight of USD strength once again to sit at 1.0216 down about 30 points from this time yesterday.
The high of the past day was actually on an old trendline that has its genesis in the lows of 2008 and also our slow moving average on the dailies both of which suggests that the bias for the Aussie is still to the down side with last week's positive move higher the only weekly advance of the past 7 weeks. Aussie still looks like it is having a round turn trip back towards 1.0098/1.0103.
The euro is also under pressure down 0.56% to 1.3064 about 100 points off the high over the past 24 hours.
Euro clearly shows the risks of a deeper move. All we need to see is the euro trade down and through the low of this week and the next leg toward our 1.2650 target will have begun. Equally this week's low should be support but we don't expect it to hold.
On commodity markets silver has fallen 1.74% to $28.44 oz and a break of $28.25 opens up the way to 26 bucks an oz. Crude was also lower, falling 1.06% to $91.78 a Bbl and it looks biased lower also. The Ags were stronger however with corn up 1.66%, wheat 0.53% higher and soybeans rallied 1.06%. Cotton was another 1.83% higher.
Data
There is a raft of data to kick off March today/tonight. In Australia we get the AiG performance of manufacturing index before Japanese CPI and unemployment data and Korean Trade data. In China we have the NBS manufacturing PMI and the HSBC PMI out before we get UK house prices and German retail sales which will be super important. Then there is the suite of European Markit PMI data along with the Brazilian HSBC equivalent and then the US Markit PMI along with ISM and vehicle sales.
So a big night of data and one which will give a pointer to where the economies are headed.
Here is how markets looked this Morning
Disclaimer: The content on this blog should not be taken as investment advice. All site content, including advertisements, shall not be construed as a recommendation, no matter how much it seems to make sense, to buy or sell any security or financial instrument, or to participate in any particular trading or investment strategy. Any action that you take as a result of information, analysis, or advertisement on this site is ultimately your responsibility and you should consult your investment or financial adviser before making any investments.
Latest posts by Deus Forex Machina
(see all)