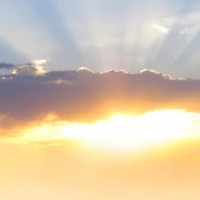 Emotions are great in markets. One day something matters, the next it doesn't then it does again. Such has been the case this week with Cyprus. Asia was really worried Monday but the Northern hemisphere less so and then overnight with the Cypriot Parliament voting down the proposed "rescue" package markets have decided that Cyprus really might be Europe's Amazonian butterfly. DE has written another good piece this morning which I urge you to have a look at but the picture below beside sums up the real implications of the Cypriot debacle – who is next?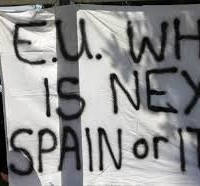 Turning to the euro, I have had a target around 1.2650 for some time now but as noted yesterday morning while it is above the 200 day moving average then the outlook is not dire. Last night saw the euro tested but it is closing above the 200 day moving average. But the downtrend remains firmly entrenched as you can see in the chart below.
There is a very high probability that euro will trade down to the 1.382 Fibo extension of the recent move before the multi day consolidation.
Elsewhere overnight stocks were lower which is a bad sign for the Australian market which broke an important trend support on the close below 5000 yesterday. It looks weak and has a substantial pullback coming particulalry because broker downgrades hit BHP and Rio in overnight trade offshore. In Europe the ZEW business survey in Germany was stronger than the punditry expected but with Cyprus dominating no one cared.  Spain was hammered 2.20% lower, Italian stocks dropped 1.59% and in France where the Finance Minister has some issues to deal with stocks dropped 1.29%. The DAX was more subdued falling 0.78% and the FTSE was positively positive compared to the rest of Europe falling only 0.26%.
In the US the data was pretty good with Housing Starts and Building Permits both stronger than expected but Cyprus weighed on sentiment and even though the S&P is only down 3 points just near the close for a lose of 0.2% it was off as much as 13 or 14 points earlier. The ECB announcement that it would provide liquidity to Cyprus buoyed things a little and has actually managed to push the Dow just into the black and it is up 6 points or 0.03% just near the close. The Nasdaq is down 0.27%.
On Commodity markets Nymex crude fell 1.65% back to $92.19 Bbl. Corn and wheat rose more than 1% but soybeans were 0.3% lower. Silver was down 0.11% to $28.91 oz while gold rose to $1615 at one stage.
Data
Kiwi current account and then the Westpac Leading Index in Australia. Eurozone Current Account tonight might be interesting and the German 10 year bond auction is bound to get plenty of bids and then the Fed decision is out tomorrow morning.
Twitter: Greg McKenna
Disclaimer: The content on this blog should not be taken as investment advice. All site content, including advertisements, shall not be construed as a recommendation, no matter how much it seems to make sense, to buy or sell any security or financial instrument, or to participate in any particular trading or investment strategy. Any action that you take as a result of information, analysis, or advertisement on this site is ultimately your responsibility and you should consult your investment or financial adviser before making any investments.
Latest posts by Deus Forex Machina
(see all)