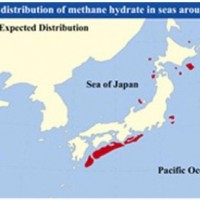 Following on from FT Alphaville's post on China's efforts to extract natural gas from shale rock formations, it appears that Japan has now discovered big gas reserves in waters adjoining the Japanese coastline. From The Telegraph:
Japan has extracted natural "ice" gas from methane hydrates beneath the sea off its coasts in a technological coup, opening up a super-resource that could meet the country's gas needs for the next century and radically change the world's energy outlook.

…an exploration ship had successfully drilled 300 metres below the seabed into deposits of methane hydrate, an ice-like solid that stores gas molecules but requires great skill to extract safely.

"Methane hydrates available within Japan's territorial waters may well be able to supply the nation's natural gas needs for a century," said the company…

Government officials said it was the world's first off-shore experiment of its kind, though Japan been working closely with the Canadians. The US and China have their own probes underway.
The US Geological Survey said methane hydrates offer an "immense carbon reservoir", twice all other known fossil fuels on earth… However, it warned that the ecological impact is "very poorly understood".

The immediate discoveries in Japan's Eastern Tankai Trough are thought to hold 40 trillion cubic feet of methane, equal to eleven years gas imports… Tokyo hopes to bring the gas to market on a commercial scale within five years…

The country's trade surplus has vanished since the government shut down all but two of its 54 nuclear reactors after the Fukushima disaster in 2011 and switched to other fuels, mostly liquefied natural gas (LNG).

It imported a record 87m tonnes of LNG last year at roughly five times the cost of shale gas available to US chemical companies and key industries, putting Japanese firms at a huge disadvantage.

Japan's Institute of Energy Economics said methane hydrate could be the "game-changer" that restores Japan's flagging fortunes, acting as a catalyst for revival much like the shale revolution in the US.
Japan is a major importer of liquefied natural gas (LNG) and thermal coal from Australia. Therefore, the discovery of vast natural gas reserves in Japan has potential to deal yet another blow to Australia's LNG and coal industries, which are already feeling the effects of the shale gas boom in the US.
As with China's shale gas reserves, there are doubts over whether Japan's 'ice' gas can be commercially harvested, as well as its environmental efficacy. Nevertheless, it seems clear that Australia's exports of LNG and thermal coal are likely to come under increasing pressure.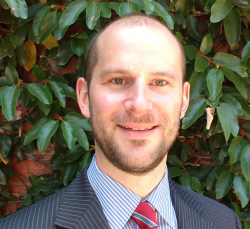 Latest posts by Unconventional Economist
(see all)