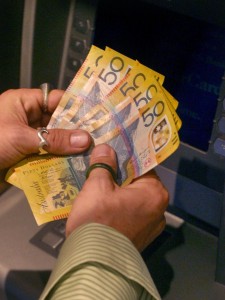 APRA has released its February banking statistics and deposit growth is going bye, bye on the month up just 0.1% and year on year growth is down to 6.6%. Here's the aggregate chart with a plateau forming: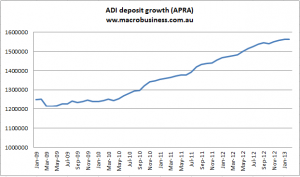 The month on month chart which is fading: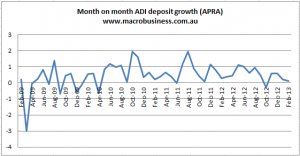 The year on year chart which is tumbling: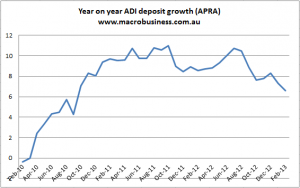 It doesn't take Einstein to figure out more savings are going into assets now or just being spent. And there will be less savings too as national income keeps falling. I expect we'll see the savings trend in the first quarter national accounts begin to fall too.
We are one uptick in credit demand away from the banks rushing into wholesale markets for more dough. Not that that's a problem for the new and improved fast and loose RBA. What are you going to do APRA?
David Llewellyn-Smith is Chief Strategist at the MB Fund and MB Super. David is the founding publisher and editor of MacroBusiness and was the founding publisher and global economy editor of The Diplomat, the Asia Pacific's leading geo-politics and economics portal.

He is also a former gold trader and economic commentator at The Sydney Morning Herald, The Age, the ABC and Business Spectator. He is the co-author of The Great Crash of 2008 with Ross Garnaut and was the editor of the second Garnaut Climate Change Review.
Latest posts by Houses and Holes (see all)