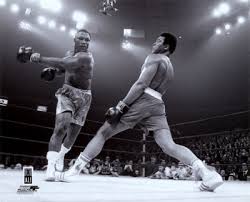 Find below a disappointing speech this afternoon from APRA's Executive General Manager, Charles Littrell, dedicating much time and space to backslapping APRA's discretionary approach to financial stability and giving macroprudential reform short shrift.  We know that APRA did a poor job in the years before the GFC because without the wholesale intervention of government into the banking sector it would have collapsed. For Mr Littrell to therefore continue to describe the Global Financial Crisis as the North Atlantic Financial Crisis, as if our financial system wasn't fundamentally rocked and changed, is, in a word, dung.
We also have the following from a former APRA insider that directly contradicts Mr Littrell: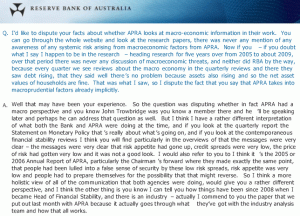 That is not to say that APRA has not done a better job since. It has. Especially in restricting banks to one-to-one deposit growth versus lending growth. Of course that shift is also more proof that its pre-GFC methods failed.
There are some strengths in the speech. Seeing a financial regulator actually mention and incorporate Hyman Minsky is one. But the purpose of the speech is mostly to defend current approaches to defending against Minsky's cycle of ponzi finance and Mr Littrell objects to notions that macroprudential policy should be stiffened up with real rules – instead of discretionary judgements made by Mr Littrell – in the most flimsy way:
In the particular context of macro prudential supervision, we see several threats to good supervision emanating from an overly rules-based approach.

Implementing macro prudential supervision in many national jurisdictions runs the risk of the central bank or the finance ministry telling the prudential regulator how to use the regulator's tools, even when the regulator doesn't necessarily want to use them in that way. There are a great many problems with such an approach. The list starts with a resultant fuzziness in responsibility for prudential outcomes, continuing through the potential to impair relationships between the key public sector agencies, and finishing with a reduction in confidence on the part of the prudential regulator. In the Australian context, these would be disastrous results; we leave other jurisdictions to consider the implications in their countries.

Fortunately, there is no intent in Australia to take such an approach. APRA, and only APRA, uses the regulatory tools related to prudential supervision, and the more general tools of supervision for sensible behaviour by our regulated flock. A second problem with macro prudential supervision is that it has become something of a 'magic wand' in the global regulatory debate. Over-confidence in a regulatory tool risks under-reliance upon supervision, and good supervision is the best countercyclical tool available to us.

Macro prudential supervision is only one of many rules based magic wands that are progressing in the world. Others include stronger capital and liquidity requirements, stress testing, recovery and resolution plans, and statutory schemes to facilitate the resolution of a systemically important financial institution. All these reforms are useful, but if they reduce a regulator's resolution to supervise, or the political and public sector support for proactive supervision, they can do more harm than good.

At its best, macro prudential supervision is something that the prudential regulator already undertakes, and at APRA we hope that we are in this category. Our macro prudential work receives substantial assistance from the RBA in particular and the public sector in general, but at the end of the day, all supervision, micro and macro, is in APRA's hands. I immodestly assert that these are a reasonably safe pair of hands.
Ahem…OK.
Point 1: Rules will compromise responsibility and accountability. This is a danger in the current system. Are we to believe that APRA exists in some oxygen tent where it neither talks to the RBA or government and its judgements aren't influenced? Of course not, indeed Mr Littrell describes extensive inter-agency cooperation later in the speech. Rules give you some benchmarks around which to judge accountability.
Point 2. MP rules have become a "magic wand". That looks like argumentum ad hominem to me. Attacking the man (or the rules), not the arguments in favour of having the rules. Littrell then takes this libel and proceeds circulus in demonstrando (circular argument) to assert his own position is superior.
Point 3.  Rules will reduce supervisory intensity. Maybe. But there's no argument here to prove it. Perhaps Mr Littrell is threatening it.
Point 4. See above quote from former APRA insider.
In short, Mr Littrell's speech this afternoon is so poorly reasoned that I can only wonder at the kind of "arguments" he accepts from bankers when they present him with a proposal to expand credit. My faith in the regulator is duly shaken and desire for  hard and fast rules rises accordingly.
Charles Littrell – Macro Prudence vs. Macro-Prudential Supervision – Macquarie – Sydney 22 March 2013 (1)…. by Heidi Taylor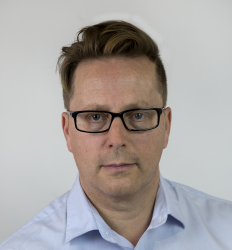 Latest posts by David Llewellyn-Smith
(see all)