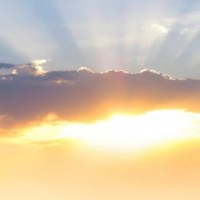 The Euro's slide seems to have triggered a sell off in equities overnight after ECB boss Mario Draghi said in his prepared statement that:
downside risks stemming from weaker economic activity and, more recently, the appreciation of the euro exchange rate
Draghi's comments are a hat tip to French concerns and the reality that there is a yawning gap opening up between the German economic outlook and that of the other big Eurozone economies in France, Italy and Spain. It could also be an explicit way for the ECB to join the game of currency wars and signal that should the euro's rally persist then monetary policy will be adjusted downward.
However during the Q&A session Draghi sort to balance the official statement by saying that the euro is not a policy target and that the exchange rate should reflect fundamentals. We are sure he knew what the second half of that statement signaled given how weak non German Europe still is so the pressure on the euro's downside was redoubled.
Elsewhere in Europe the increase in the Spanish and Italian interest rates continued with the Spanish 5 year auction going at a yield of 4.123% against 3.77% although the 2 year auction was quite a bid lower. Confusing but the fact the focus is on the 5's not the 2's speaks volume of sentiment – at least today.
Also out in Europe was really good news for Ireland, its citizens and its economy that a deal has been done to materially lower the interest costs and save as much as €1 billion a year off the deficit. Irish Prime Minister Enda Kenny said:
In effect, we have replaced a short-term, high-interest-rate overdraft that had to be paid down quickly through more-expensive borrowings, with long-term, cheap, interest-only loans.
This is a good and fair outcome for Ireland who even though they may have been the catalyst for the need for all governments to guarantee their deposits once the Irish guaranteed theirs back in 2008 have largely done the right thing throughout this mess.
Elsewhere overnight in Europe Industrial Production was up 0.3% in December and was only down 1% in 2012. In the US Jobless Claims were down 5k from last week but 6k higher than expected. Non-farm Productivity was a shock falling 2% while Unit Labour Costs rose 4.5% against 3% expected!!!
On the bourses it was a poor day for Europe with the FTSE down 1.07%, the CAC down 1.15% and the Milan exchange off 1.22%. Spanish stocks fell 0.51% and the Dax, having had the worst of it lately actually managed a rise of 0.13%.
In the US with 15 minutes to go and after consumer credit data was higher than expected US stocks are in recovery mode. The Dow is at 13937 down 53 or 0.38% but well off the low of 13852. Likewise the S&P 500 is at 1508, still down 4 points or 0.27% but nicely higher than the 1498 low. The Nasdaq is down 0.43%.
Asia was under pressure yesterday and is likely to come under pressure again today and our own SPI 200 looks set to test support. The 4827 zone which is our fast moving average is mini-major support with 4848 the trendline you can see in the chart.
The Aussie remains under pressure and after an initial rally post employment yesterday that saw it get to 1.0333, the battler got hit below 1.03 before rallying again into Europe only to reverse once again and its sits at 1.0280, slightly above the 1.0269 low.
USDJPY was relatively quiet for a change trading just 93.06-93.91 range and it sits mid range now at 93.47 down 0.16%. Sterling had a cracking recovery at one stage making it all the way back to 1.5767 but it sits at 1.5699 still up on the day but only 0.26%. As noted above the euro fell and it is down 0.95% to 1.3392.
On commodity markets, crude has fallen along with the euro, or could we say as a result of the US dollars strength. Gold is off 0.41% to $1670 oz while the volatile precious metal, silver, has fallen 1.26% to $31.46 oz. Corn was off 1.666%, wheat fell 0.79% and soybeans were largely unchanged up just 0.02%.
Lets have a look at some Meta 4 charts from my  AVATrade platform.
EUR/USD: 
The Euro has broken our fast moving average and pulled up at our slow moving average overnight. It looks like it is heading lower to retest the uptrend line which comes in at 1.3258:
AUD/USD:
As I discussed in yesterday morning's note on the Aussie's break lower, I expected a little recovery off the 1.0309 200 day moving average before a re-emergence of the downtrend. That has occurred and the Jimmyr and breakout systems remain short. Possible support seems to come in around 1.0202 now as you can see in the cross over of the two trend lines in the chart:
Data
Chinese and German trade data today/tonight has our eye – key data for many markets and many nations and currencies.
Twitter: Greg McKenna
Here are how some of the markets we follow looked at 7.39 this morning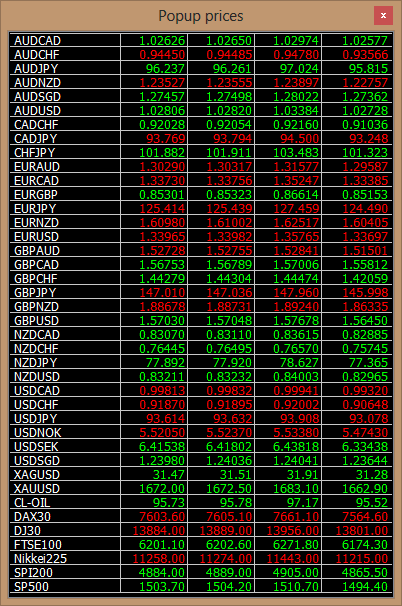 Disclaimer: The content on this blog should not be taken as investment advice. All site content, including advertisements, shall not be construed as a recommendation, no matter how much it seems to make sense, to buy or sell any security or financial instrument, or to participate in any particular trading or investment strategy. Any action that you take as a result of information, analysis, or advertisement on this site is ultimately your responsibility and you should consult your investment or financial adviser before making any investments.
Latest posts by Deus Forex Machina
(see all)