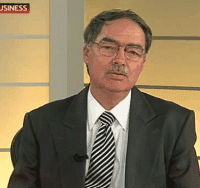 Residex has just released its house price indices for the month of December, which registered a 0.53% rise in national house prices over the month and a -0.67% fall in unit values. Over the year, house values nationally lifted by 0.49%, whereas unit values fell by -0.40%  (see below table).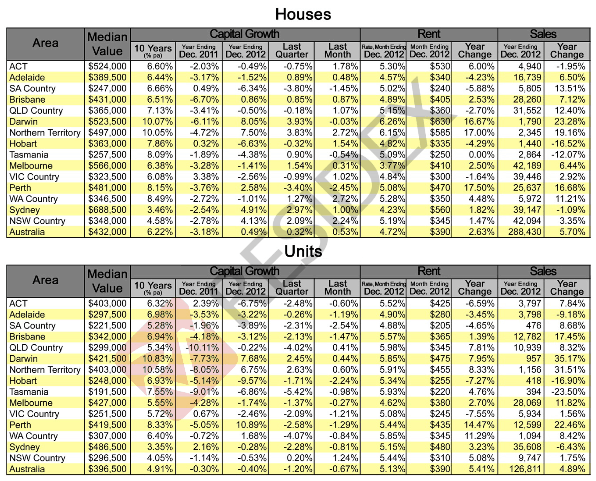 As with APM's house price index, released earlier today, the housing market is two-speed, with solid annual growth experienced in Darwin, Perth and Sydney, but weaker growth or price falls experienced elsewhere.
As always, the commentary from Residex CEO, John Edwards, is worth checking out. In this month's release, Edwards explains how poor affordability is likely to hold the market back, despite expected further interest rate cuts, which should lead to only modest house price growth:
On an Australia wide basis, capital growth in the house and land market achieved its best performance in the last 18 months. Weekly rentals also increased, with rentals for houses and land maintaining real value while units outperformed inflation by about 3%. Rental increases are good news and much needed as the sector's capital value is either stagnant or just maintaining real value. This should be expected to continue…

As expect in an improving market, sales activity also increased in 2012. What is interesting from the sales figures is the fact that the unit market has now become almost as important and significant as the house and land market. Market share of unit sales is now in the order of 44%. In Sydney, unit sales are now almost equal in importance with the difference between volumes only being about 4,000 dwellings for the full year.

In my opinion, strong growth in the next few years is unlikely despite low interest rates and the likelihood of further rate reductions simply due to affordability issues. I believe the RBA will be forced to reduce the cash rate to as low as 2.25%, or perhaps even 2% over the next 12 months due to a slowing economy and a need to maintain employment in an environment where the resource sector moves from a development phase to a production phase. I am hopeful that the RBA will recognise the need to cut rates in one significant move in the immediate future rather than via a number of small cuts throughout 2013. I take this view as consumer sentiment is currently driving the economy and retail economies. Multiple reductions simply reinforce the fact that an economy is in trouble, which in turn undermines consumer sentiment.

My overall view for 2013 is that, with any luck, average growth across Australia will be above inflation. Given the state and position of the housing cycle and normal trends from here, this growth outcome should be easily achievable. However, it will depend on the unfolding global economic developments in the next 12 months and consumer sentiment. This year also brings a significant amount of distraction as a period of political exaggeration and cross claims are entered in preparation for the late year Federal Election. The recent past political environment has been one of the most self-interested, venomous and arguably politically driven part-truth manipulated periods in the last 50 years. Naturally, the public has and continues to react to this and the outcome of the election will impact on the confidence in our future.

The year ahead will be driven by:

Affordability in housing markets
Employment conditions
Consumer Sentiment

Over the course of the next few months, I will look at the above issues closely. In this newsletter, I focus on the first issue; Affordability.

Despite the interest rate reductions, affordability is still an issue for many Australians. Even at current interest rate levels, a large proportion of people cannot afford to make the loan repayments needed to allow them to compete for and buy a property that suits their needs, let alone their dreams. Competition for property has been reduced and with that there has been a reduction in demand. This is not the case in all Australian markets. It is, however, most certainly true for houses and land in major markets.

Graph 1 displays the House Price Growth Rate (HPI) on an annual basis compared to a measure of affordability (Affordability Indicator) for Australia's largest market – Sydney. The measure of affordability is the percentage of gross income it takes for a household's income to make home loan repayments. It assumes that the home loan interest rate is as quoted by the Reserve Bank for each year, and assumes an 80% loan to fund the median house value for each year.

There are a number of relationships evident in the graph:

The current measure of affordability (MA) is quite high by historical standards and has been increasing for the full term of the data set.
The median MA over the last 50 years is about 30%
Once the MA exceeded 50% (1987) HPI has gradually become lower.
Once MA exceeds 50% the market retreats and negative HPI eventuates in most cases.
For the last decade, MA has been at or above 40%. During this period it is clear that capital growth has been at its lowest level. In fact, Sydney HPI was the lowest on average of any capital city in Australia, providing an annual average rate of growth of just 3.46%.

Affordability issues flow across the total market as different income groups purchase different properties in terms of price and location. For example, those who would normally aspire to purchase a house given their income level would not easily move to purchase a unit, therefore the affordability of each category and area is important. Table 1 demonstrates this; even though units are around $200,000 less in cost and hence the median income takes MA to a realistic level of 32%, this segment still failed to produce capital growth that was better than the more expensive house and land segment in the last decade. Growth on average over the last 10 years for units was just 3.35% pa.

It seems to me that the MA has to be in the low 30% band for there to be reasonable levels of capital growth. We have some way to go to get to that yet.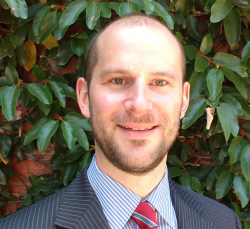 Latest posts by Leith van Onselen
(see all)