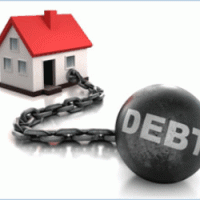 The Daily Mail last week published an interesting article on the plight of second-time (upgrader) home buyers in the UK, who are increasingly becoming trapped in homes that they have outgrown due to a lack of (or negative) housing equity following a period of house price falls:
Growing families have no choice but to stay in homes that are too small because they cannot afford a larger property, a report reveals today.

For many years, one of the biggest worries about the housing market has been the struggle faced by first-time buyers who cannot get a mortgage.

But today's report, from banking giant Lloyds, highlights the problem of the previous generation – the so-called second steppers.

They are typically 40 years old, bought their first home five years ago and want to move on to the second rung of the housing ladder. In many cases, they have settled down, started a family and need extra bedrooms for their children.

In a sign of how dramatically the tide has turned against this generation, the report says there were just 320,000 home-moves in total last year, compared to 865,000 a decade ago.

This means that there are thousands of people who need to move home but cannot, typically for financial reasons.

One of the biggest problems faced by second steppers is that the average deposit required to move up the housing ladder is now £62,000, compared to just £39,000 in 2002… But the average second stepper has only £11,500 of equity in their current home – that is, the value of their home minus the mortgage…

With the huge cost of moving to also consider, from stamp duty to legal fees, the report says this means they have 'very little to put down as a deposit on the next home'…

To make matters worse, Lloyds warns that many second steppers are in negative equity, which means the value of their property is less than the size of their mortgage.

It states: 'There are many potential second steppers who bought at the peak of the market in 2007. Many of these are likely to be in an even worse financial position, often with negative equity.'

Nitesh Patel, housing economist at Lloyds, said: 'Even though many of today's second steppers won't have bought at the height of the market, many are still going to struggle to make that move up the housing ladder.
Certainly, reports of negative equity households in the UK is understandable given that house prices have fallen by between -2% (Financial Times) and -20% (Halifax) since prices peaked, depending on which house price series is used (see below chart).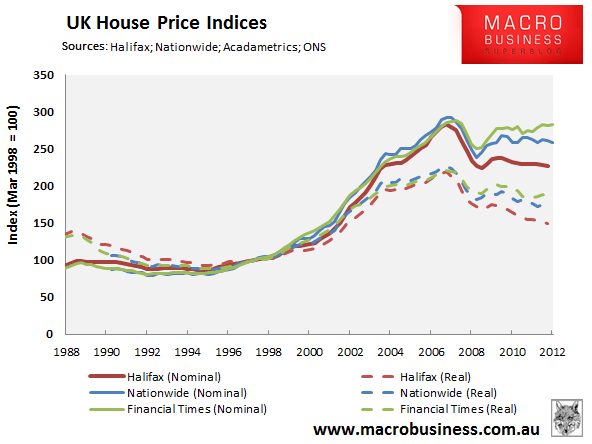 What is most interesting about the UK experience, however, is that the plight of second-time buyers comes amid improved conditions for first home buyers (FHBs).
In particular, UK mortgage rates have plummeted since the GFC and are now tracking at around 4% only (see below chart).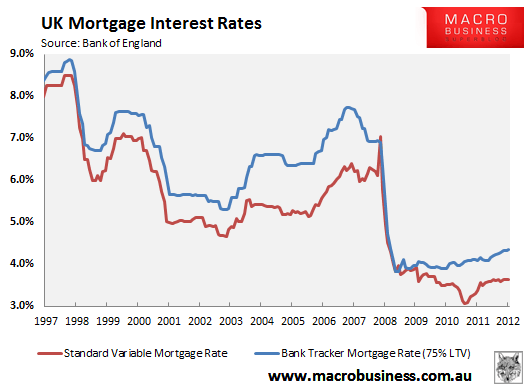 Due to these falling mortgage rates, in addition to lower house prices, UK housing affordability is now tracking above the 30-year average, according to Halifax (see below chart).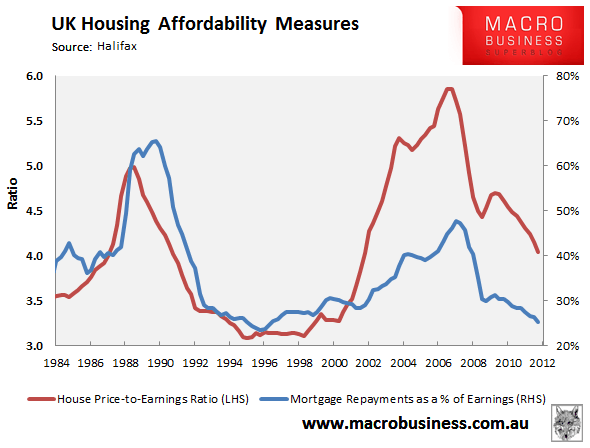 Finally, the availability of mortgage credit has also improved, with the latest Bank of England Credit Conditions Survey reporting improved credit access over the past year (see below chart).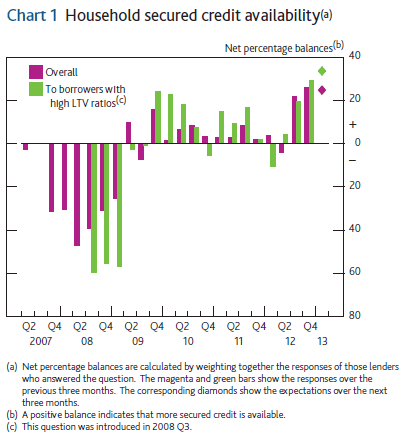 I often write about how problems in the FHB market can cause knock-on effects up the chain, since prospective upgraders tend to sell to FHBs. However, the UK appears to be experiencing the opposite phenomenon:
'House prices have been falling or flat for the past four years. As a result, many are still in a very low equity position. The difficulties faced by aspiring second steppers are having a considerable knock-on impact on potential first-time buyers due to the resulting shortage of properties available on the market.'

It comes after planning minister Nick Boles said more homes must be built or home ownership risks becoming 'the exclusive preserve of people with large incomes or wealthy parents'.
The last point is the key issue, in my opinion. The highly rigid urban planning system in the UK has created a severe structural shortage of homes, which can only be fixed via supply-side reforms (see here and here for detailed analysis). Demand-side policies cannot fix the UK housing system.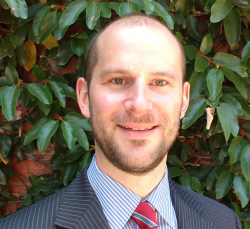 Latest posts by Unconventional Economist
(see all)