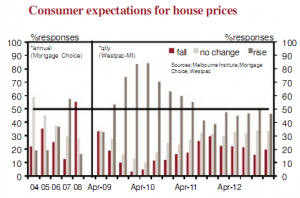 Find below Westpac's quarterly survey of consumer house price expectations, which seems to have surprised with a decent fall in January. Westpac puts on a brave face but if there is a first home buyer strike, it seems to have been entrenched by the death of FHOG:
Westpac-Melbourne Institute Consumer House Price Expectations Index moderated in January, all but reversing a spike in October.
The net balance of the Index indicated that 26.7% of respondents expect house prices to rise over the year ahead.This is a fall of 7.7pts from October, following a rise of 9.1pts between July and October.
This reversal of consumer's house price expectations early in 2013 was despite the Reserve Bank lowering interest rates further in December.
The Westpac-MI survey reveals that expectations were at their low point in July and October 2011. Interest rate cuts by the RBA in November and December 2011 provided a boostto house price expectations, with the net balance rising to+25.1% in January 2012 up from +9.1% in October. But since then, the Index has gained just 1.6pts, notwithstanding an additional 125bps of rate cuts from the RBA over this time.
The proportion of respondents expecting house prices to rise was 46.5% in January. This is a fall of 3.8pts from October and matches the average result of the January, April and July surveys in 2012.
About a third of respondents expect house prices to remain stable. The January reading of 33.7% is virtually unchanged from 33.9% in October.
Some 19.8% expect house prices to weaken over the year ahead. This is up from 15.9% in October, but still lower than an average 22.1% for the previous three updates.
The state split is very uneven. The WA market is positive but has cooled as confidence in the mining sector weakened(net 51.0% down from a high of 65.2% in July). NSW is on the improve, responding to lower interest rates (43.9%, up from 26.8% a year earlier). The Qld market is struggling to make progress (23.9%, down from 27.0% in January 2012).While Victoria has been volatile (-1.0%, compared to 34.1% in October and +2.8% in July).
Across 'demographic' groups renters tempered their price expectations, partially reversing a burst of exuberance evident in October. The age-group breakdown showed a collapse in expectations of 18-24 year olds, to +19.8% from 65.2% in October. It may be that this group has been unsettled by recent changes in state government incentives and there maybe a reassessment after earlier expectations of rising prices in response to lower interest rates have not been met.
Overall, the January update suggests the stabilisation apparent in Australia's housing markets over the first half of 2012 will be sustained. But while 'purchase sentiment' is turning very positive a more mixed view on the price outlook points to amore restrained upturn that may take longer to come through and appears somewhat less assured.
Here is Bill Evans from last week discussing the FHB problem.
er20130121BullConsumerHousePriceExpectations.pdf
David Llewellyn-Smith is Chief Strategist at the MB Fund and MB Super. David is the founding publisher and editor of MacroBusiness and was the founding publisher and global economy editor of The Diplomat, the Asia Pacific's leading geo-politics and economics portal.

He is also a former gold trader and economic commentator at The Sydney Morning Herald, The Age, the ABC and Business Spectator. He is the co-author of The Great Crash of 2008 with Ross Garnaut and was the editor of the second Garnaut Climate Change Review.
Latest posts by David Llewellyn-Smith (see all)