Find below the iron ore price table for January 25, 2003: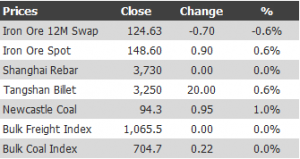 And the chart: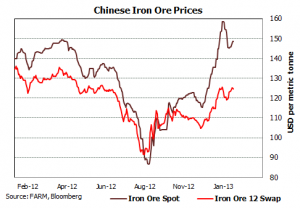 Steady recovery in spot and swap still balking at resistance. This has left my spread charts just as broken. Spot to swap signaling tension between the short and long term view: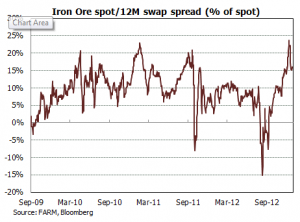 And spot to rebar signaling a complete disconnect between ore and steel demand: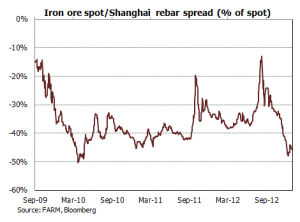 Chinese bulk shipping rate are also still weak: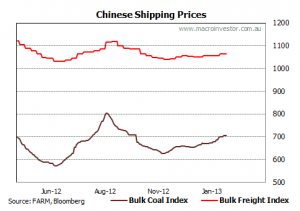 And there has still been no corroborating movement in the coking coal price (one week delayed pricing).
But a better sign for fundamental demand is that port inventories are still being drawn down. Or perhaps the recent weather-related WA port closures explains the latest erosion: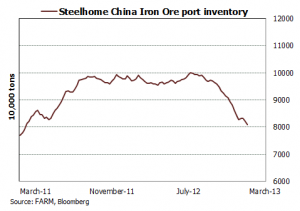 Chinese Indian supplies are also still shrinking.
The news from India last week was all positive for the iron ore price with all sorts of ruminations about local iron ore shortages leading to rising imports.
News on the demand side was focused late last week by Phat Dragon's excitement over China's plans for expanded railway spending. From Phat himself:
Phat Dragon noted with great interest a Caixin report that cited a MOR official indicating that it plans to pursue a 5,400km expansion of the rail network in 2013. If that raw number means nothing to you, tweet your local news provider and ask why no genuine context is ever provided for 'big number' headlines. Anyway, to put it in context, if achieved that would represent the third largest incremental increase in China's rail network ever, taking the bronze behind the stimulus years of 2009 & 2010. It would also represent more work than was completed in both 2011 and 2012 combined. All  very exciting to be sure…
I've explored the issue and more was provided by MOR to Caixin on Friday:
The Ministry of Railways says that fixed-asset investment in December totaled 124 billion yuan, up 51.6 percent from November and enough to help it meet its annual target. Total fixed-asset investment in railways for the year was 630.9 billion yuan, the ministry said, jumping 7 percent from 2011.

Some 518.5 billion yuan of that was investment in infrastructure. The figure for December was the highest monthly figure of the year. The ministry had set a target for annual fixed-asset at 630 billion yuan, but over the first eight months the total was just 271.5 billion yuan. However, starting in September the monthly figures soared.

The ministry expected fixed-asset investment on railways to be 650 billion yuan in 2013, said its head, Sheng Guangzu. Some 520 billion yuan would go toward building infrastructure.

Although Sheng did not specify the source of funding, he said the ministry would try to establish a national railways development fund, making it a platform to attract private capital into the sector and to diversify the investment entities.

The figure for 2013 would be the third largest in the history of the ministry after 2009 and 2010. In 2009, fixed-asset investment was 704.5 billion yuan, and in 2010 it climbed to 842.6 billion yuan.
So, the MOR plans to expand spending 3% from last year in a more even calendar spread. But on what appears to be not as yet obtained funding. Given recent months, they do seem to have access to cash but the line about the private sector isn't very reassuring given the drover's dog knows there are no returns to be made on railways to nowhere. OF course, the banks might always get the tap on the shoulder.
In aggregate there's no bonanza here but in terms of cycles it could have an impact. As I argued in my 2013 forecast, if folks get it in their heads that the good times are back, the hoarding will resume and the sky's the limit for the price in near term.
But again, the now familiar refrain that the second half will bring greater weakness was reiterated by Morgan Stanley as it upgraded short term forecasts:
Morgan Stanley raised its forecast for iron ore prices this year on expectations that accelerating economic growth in China, the biggest buyer, will boost demand.

Prices will average $133 a ton this year, 11 percent more than a previous estimate, analysts Peter Richardson and Joel Crane wrote in a report today. Prices may average $142 in the first quarter and fall to $125 in the third, they said.
Sounds familiar.