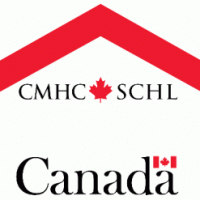 For the past few years I have watched with interest the Canadian housing market's continued rise in value. Whereas most other housing markets, including Australia's, have taken a breather, Canada's has powered-on, rising in value by 26% nationally since its April 2009 low, according to the Teranet house price index (see next chart).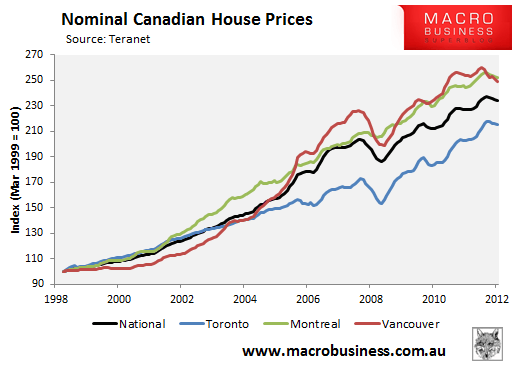 The surge in Canadian home values has been fueled by a big reduction in mortgage rates. The official cash rate in Canada currently sits at just 1%, with average five year mortgage rates sitting at 60-year lows of just 4.15%, according to the Bank of Canada (see next chart).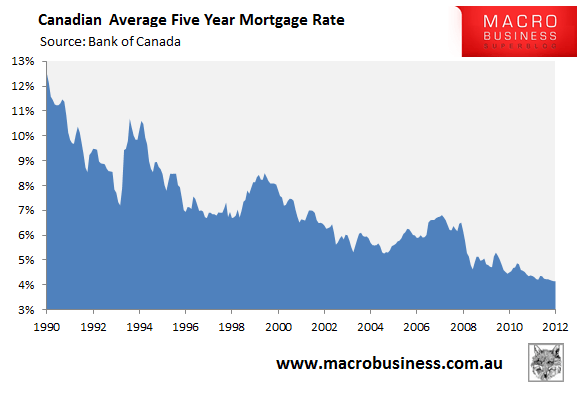 Canadian household debt, too, is at all-time highs, having recently surpassed the United Kingdom and the United States (see next chart).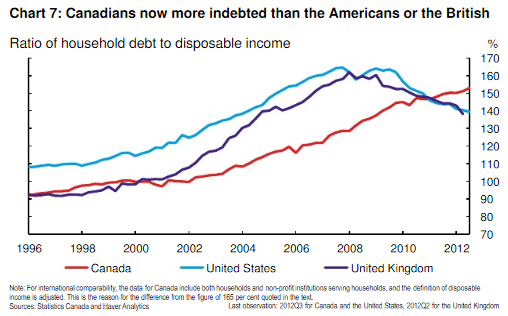 There are tentative signs that Canada's housing market may finally have peaked, with the Teranet national index recording four consecutive monthly falls (down -1.3% since August 2012), which is the longest consecutive number of monthly falls since the 2008 recession.
And as shown below, the latest issues of Canada's two major business magazines – Macleans and Canadian Business – have run front-page articles prognosticating about impending doom for Canada's housing market (admittedly they did run similar stories this time last year):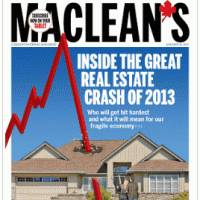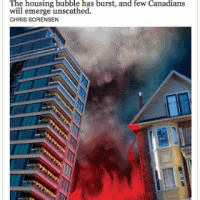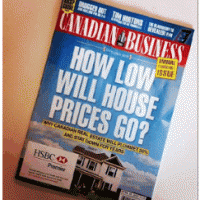 Seemingly worried about the frothiness of the housing market, Canada's Finance Minister, Jim Flaherty, last week signalled that he would like Canadian house prices to come down "a bit" from current levels.
Indeed, in July 2012, Flaherty moved to cool the Canadian housing market by capping the maximum mortgage amortisation period at 25 years for people with deposits of less than 20%. The impact of this move to date has been somewhat negative, with house sales falling by 17% in December on a year-on-year basis and prices down marginally since the new rules were introduced.
That said, the rule change represents the fourth time in as many years that Flaherty has changed the mortgage rules in order to make it harder to get a mortgage, and on each previous occassion Canadian home prices took an immediate hit before rebounding strongly thanks to low interest rates.
The Canadian central bank, the Bank of Canada, has for a long time warned that the next move in interest rates is up, although just yesterday it left the official cash rate untouched at 1% (for the 19th consecutive month) and suggested that interest rates would remain on hold for the foreseeable future:
"The slowdown in the second half of 2012 was more pronounced than the Bank had anticipated"…

"Some modest withdrawal of monetary policy stimulus will likely be required over time … [but] the timing of any such withdrawal is less imminent than previously anticipated".
The Bank of Canada has also become increasingly worried about the level of household debt and the unbalanced nature of Canada's economy. Earlier this month it published an interesting report, entitled Regearing our economic growth, which contained the following warnings for the Canadian economy:
Today, the balance sheets of households are stretched. After 11 consecutive years with household outlays exceeding disposable income, household debt burdens have increased substantially. Household debt as a percentage of disposable income has risen by almost 60 percentage points to 165 per cent today, an

d

Canadians are now more indebted than the Americans or the British.

Housing activity in Canada is at a near record share of GDP, and there are indications of overbuilding and overvaluation in some segments of the housing market. Reflecting the strength in spending relative to income, Canada's current account has been in deficit for the past four years.

These trends are not sustainable… [S]omething needs to take the place of increasingly leveraged household spending or economic growth in Canada will slow…

The strength in housing activity has also been reflected in rising house prices. Over the past decade, the price of the average home has risen from 3.5 times disposable income to more than 5 times (Chart 14), and the house price-to-rent ratio has increased from 1.3 to 2.3 (Chart 15). Both of these measures are now well above their historical averages.

Restoring sustainable levels of borrowing and housing activity is a shared responsibility… In the past six months, the growth of household credit has continued to moderate, with total household credit growth slowing to slightly below 4 per cent in recent months (Chart 16). If this is sustained, the ratio of household debt to disposable income can be expected to stabilize later this year…

Housing activity has also moderated recently. Sales of existing houses have softened, falling below their 10-year average in the third quarter. More recently, housing starts have also fallen from very high levels, [but] even with this decline, housing construction remains above demographic demand…

These are encouraging signs of a stabilization of household imbalances and a more sustainable housing market. But after a decade of buildup, it is too early to be sure.
It looks to me like the Canadian housing market is facing some sort of correction. It's just a question of whether it will unwind gradually or in a disorderly manner.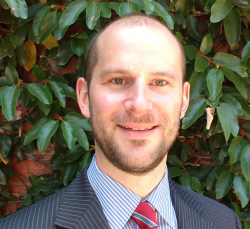 Latest posts by Leith van Onselen
(see all)